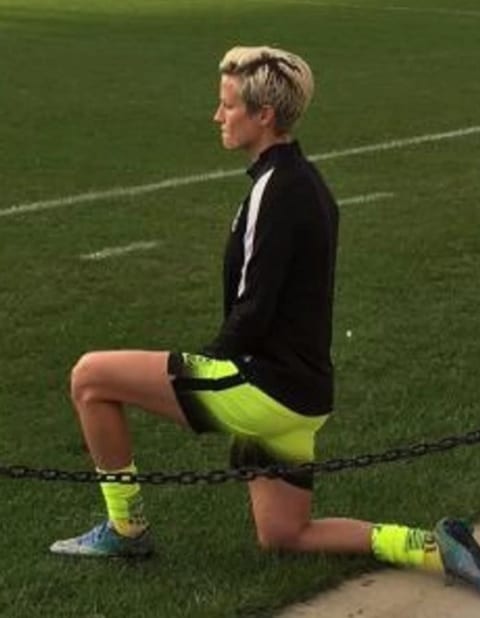 In solidarity with San Francisco 49ers quarterback Colin Kaepernick's decision to remain seated during the national anthem to protest the oppression of people of color, out soccer star Megan Rapinoe supported the NFL star on Sunday by also refusing to stand.
Kaepernick remained seated during a preseason game against Green Bay and last week knelt before a game against the San Diego Chargers.
#USWNT star Megan Rapinoe kneels during the national anthem. "It's the least I can do." https://t.co/tjuDrd1ytO pic.twitter.com/1VLcU6mtnI

— Good Morning America (@GMA) September 5, 2016
Following that game he explained his actions to NFL Media:
"I am not going to stand up to show pride in a flag for a country that oppresses black people and people of color To me, this is bigger than football and it would be selfish on my part to look the other way. There are bodies in the street and people getting paid leave and getting away with murder."
On Sunday Rapinoe said:
"It was very intentional. It was a little nod to Kaepernick and everything that he's standing for right now. I think it's actually pretty disgusting the way he was treated and the way that a lot of the media has covered it and made it about something that it absolutely isn't. We need to have a more thoughtful, two-sided conversation about racial issues in this country.
"Being a gay American, I know what it means to look at the flag and not have it protect all of your liberties. It was something small that I could do and something that I plan to keep doing in the future and hopefully spark some meaningful conversation around it. It's important to have white people stand in support of people of color on this. We don't need to be the leading voice, of course, but standing in support of them is something that's really powerful."
Kaepernick has since been accused of being unpatriotic. A video of 49ers fans burning a Kaepernick jersey emerged last week. On Saturday, the American Family Association tweeted that Kaepernick was breaking federal law as well as being unpatriotic. The hate group has also set up a petition asking the NFL to discipline Kaepernick.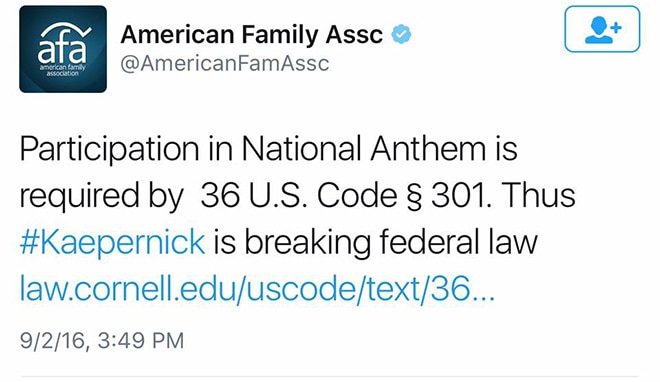 Speaking during a news conference at the G20 in Hangzhou, China yesterday, President Obama said Kaepernick has "generated more conversation around some topics that need to be talked about." Obama added he added he would rather have young people engaged in the argument than "people who are just sitting on the sidelines and not paying attention at all".
Watch Obama's full statement on the issue and a report on Rapinoe below.
(Image via Twitter)