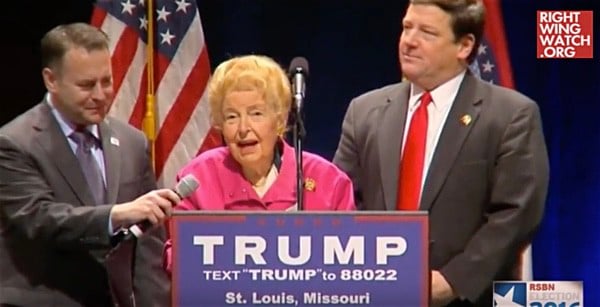 Phyllis Schlafly, the homophobic, anti-feminist activist occasionally referred to as the mother of the Christian conservative movement, has died at the age of 92.
Schlafly's death was announced in a message on the website of Eagle Forum, the organization she founded.
Eunie Smith, Eagle Forum first vice president also released a statement: "Today, Phyllis Schlafly has gone home to be with her Lord after a long illness."
Though she's known best for her opposition of the Equal Rights Amendment (ERA) in the early '70s, Schlafly, whose son is gay, also vocally opposed LGBT rights her entire life.
From the Washington Post obit:
A champion of traditional, stay-at-home roles for women, Mrs. Schlafly opposed the ERA because she believed it would open the door to gay marriage, abortion, the military draft for women, co-ed bathrooms and the end of labor laws that barred women from dangerous workplaces.
The brief amendment ("Equality of rights under the law shall not be denied or abridged by the United States or by any state on account of sex") was anti-family and anti-American, she said. Equality, she added, would be a step down for most women who are "extremely well-treated" by society and laws.
She was almost too late to stop its passage: By early 1972, when she first published her objections, the proposed constitutional amendment had just passed Congress, and 30 of the needed 38 state legislatures had ratified it.
Schlafly spoke with SiriusXM Progress host Michelangelo Signorile last year following the Supreme Court's ruling on marriage equality:
"The gays have their argument about inevitability," the 90-year-old author of 25 books told me in an interview for SiriusXM Progress at this year's Conservative Political Action Conference in National Harbor, Maryland, over the weekend, during a book-signing including her new book, "Who Killed the American Family?"
"I don't think that's so," Schlafly continued with a smile, rejecting the "inevitability" argument. "I'm extremely disappointed that the Republican Party, the conservative movement, even the Democratic Party and the churches, have been saying, 'Well soon the court will decide, and that will be it.' Well, a lot of people thought that about Roe v. Wade, and we've seen the whole abortion movement turned around in the last ten years."
Schlafly called on states to ignore the Supreme Court's ruling.
She has also claimed that marriage equality advocates want to wipe out the Christian religion.
In an interview with conservative radio host Chuck Wilder last year, Schlafly spoke out for "harassed" business owners:
"Have you noticed that only Christian small-businesspeople have been harassed and sued for refusing to participate in same-sex marriages even though our fast-growing immigrant populations, you know of Muslims, Hindus and other faiths are also opposed to that concept? They want to wipe out the Christian religion. And most of these other religions do not recognize same-sex marriage. I assume there are some Muslim bakers and photographers and other people who have been harassed, but they're not being attacked and they're not being criticized."
Schlafly's final tweet was the promotion of a column she had written attacking Obama's transgender rights policy for schools, which was halted by a federal judge in late August.
https://twitter.com/PhyllisSchlafly/status/771077416534020096