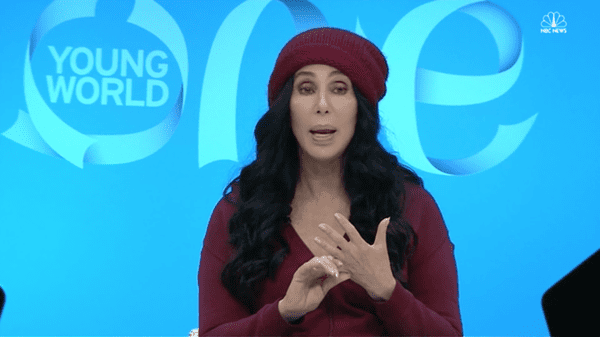 Cher recently spoke at the One Young World Summit in Ontario, Canada, blasting Donald Trump and warning millennial voters that a Trump presidency would be most catastrophic for them.
"He's an a–hole," she said of Trump. "He's such a dangerous–I don't know how he is a candidate, he is so dangerous."
Of Trump's ability to flout the truth, Cher said, "He's so terrific at lying, I've never seen anybody so good. I could go on and on on this subject forever, because I'm so traumatized by him."
Speaking about what a Donald Trump presidency would mean for the United States, Cher said, "The people who will suffer the most are millennials."
Millennial voters have reportedly not been as ardent supporters for Clinton as they were for President Obama. 
The Academy Award-winning actress and singer went on to explain that millennials will be suffer the most because "the people [Trump] will bring with him" she says will roll back civil rights for women (e.g. Roe v. Wade) and for the LGBT community.
"They will put an end to gay marriage, [and] to gay adoption," Cher said.
Cher's fears are well-founded, given that Trump has cozied up to anti-gay activists and indicated that he would appoint Supreme Court justices that would overturn same-sex marriage.
Watch, below.