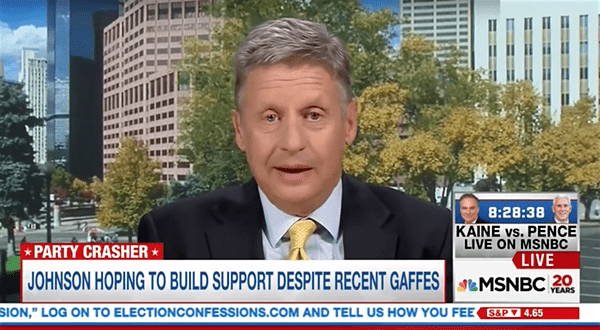 Gary Johnson spoke with MSNBC's Andrea Mitchell on Tuesday about his foreign policy failings.
Johnson was widely criticized for his "What is Aleppo?" moment and also for his inability to name a foreign leader he respects while talking with Chris Matthews in a recent town hall forum. Johnson's critics argue that both incidents exposed him to be dangerously unprepared and unfit to serve as president.
Johnson disagrees. Regarding his inability name a foreign leader he respects, Johnson told Mitchell, "I have a hard time with that one. That's politics. That's just who I am."
Johnson then suggested that being ignorant to world geography and foreign leaders would prevent him as president from getting the U.S. involved in another war.
"The fact that somebody can dot the I's and cross the T's on a foreign leader or a geographic location then allows them to put our military in harm's ways," Johnson said.
He added, "we wonder why our men and servicewomen suffer from PSD [sic] in the first place. It's because we elect people who can can dot the I's and cross the T's on these names and geographic locations, as opposed to the underlying philosophy, which is 'Let's stop getting involved in these regime changes.'"
https://www.youtube.com/watch?v=BBDJp5cRMQ8