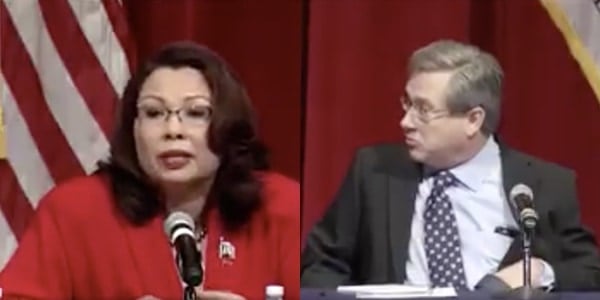 Republican Mark Kirk launched a racist attack on Democrat Tammy Duckworth during last night's Illinois Senate debate. Duckworth's mother is Thai and her father an American veteran descended from relatives who fought during the Revolutionary War.
Said Duckworth, a veteran who lost both legs in the Iraq war, in the exchange:
"My family has served this nation in uniform going back to the revolution. I am a daughter of the American Revolution. I've bled for this nation. But I still want to be there in the Senate when the drums of war sound because people are quick to sound the drums of war and I want to be there to say this is what it costs and this is what you're asking us to do."
Kirk's response:
"I forgot your parents came all the way from Thailand to serve George Washington."
Watch:
Watch Tammy Duckworth discuss her family's #military service in #ILSen debate.

Then @MarkKirk's racist "rebuttal." pic.twitter.com/RbcSlxzJUM

— Memeographs (@memeographs) October 28, 2016
Duckworth tweeted this after the debate:
My mom is an immigrant and my dad and his family have served this nation in uniform since the Revolution #ILSEN pic.twitter.com/ehEBHswFMs

— Tammy Duckworth (@TammyDuckworth) October 28, 2016
The comment also drew a fierce rebuke from the Democratic Senatorial Campaign Committee, with spokeswoman Lara Sisselman calling it "offensive, wrong, and racist." She also pointed to the fact Kirk exaggerated his military service on his campaign website, describing himself as a "veteran of the Iraq War," while he only served in the Navy Reserves and was never deployed.
"Senator Kirk has been caught lying about his military record over ten times, but he was quick to launch false attacks questioning Congresswoman Duckworth's family's long history of serving our country. A struggling political campaign is no excuse for baseless and despicable attacks, and Senator Kirk owes Congresswoman Duckworth and her family an apology," Sisselman said.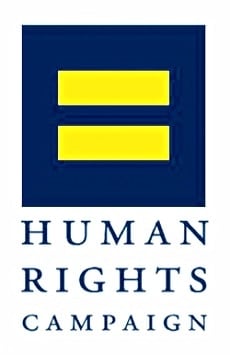 It should be noted that the Human Rights Campaign has endorsed Kirk over Duckworth.
HRC chose to endorse Kirk over Duckworth even though, as Michelangelo Signorile noted, Kirk "has only earned a score of 78 percent out of 100 percent from HRC, while his opponent, Democratic House member Tammy Duckworth, has a score of 100 — in addition to a real shot at taking the seat and handing Democrats the Senate."
In March, Kirk had also pledged to support Donald Trump.
In June he flipped and said he "cannot and will not support" Trump, adding, ""Given my military experience, Donald Trump does not have the temperament to command our military or our nuclear arsenal."