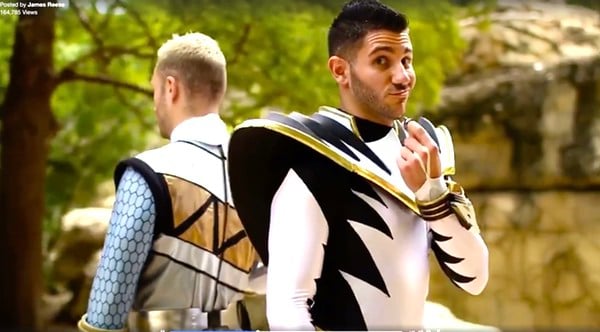 Admitted cosplay nerd, gay Power Ranger, and founder of Muscle Geek Physique, a personal training company for cosplay enthusiasts in Milwaukee and Dallas, appears to have found his perfect match.
His boyfriend Anthony recently got down on one knee and popped the question during a recent photo shoot and the magical morphin moment was captured on video.
Wrote Reese on Facebook:
You guys know that Anthony and I never do anything mediocre, we always have to be over-the-top! So, with that said, he had to make sure that the next step in our lives was more than special, it had to more Morphinominal! Anthony got down on one knee, in his ranger suit to ask me to be his forever ranger! Today, we are announcement our engagement! I said yes! Rangers Together, Love Forever! #Love #RangersForever #LoveForever thank you to our good friend Kevin Christopher Bianchi for filming and being a part of this very special moment in our life!
Watch:
https://www.facebook.com/reelentertainer/videos/vb.1753203636/10202394757107597/