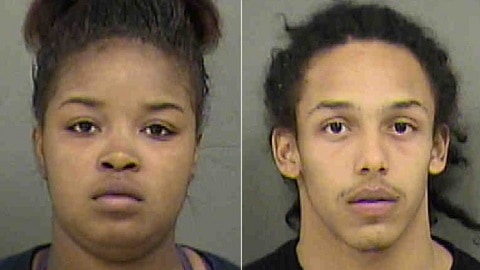 A transgender woman based in Charlotte, North Carolina has said she was attacked by two assailants last week and cut with a hatchet.
Ralayzia Taylor said that the attackers "probably just wanted to rob someone that day and then when they found out I was a transgender, it got worse." Eventually the attackers stopped, and she was able to run away and ask people for help.
Taylor required dozens of stitches following the attack and still has marks on her body. "I just want to tell all the gays and trannies to keep their heads up – not just blacks, but whites, Hispanics – it doesn't matter," she said. "Just all keep their heads up."
Although law enforcement agents have yet to label it as such, Taylor considers the attack to be a hate crime.
According to CBS, the Mecklenburg County Jail website shows that Dajion Tanner and Destiny Dagraca (above), both 18, have been released on bond on charges including attempted first-degree murder. A 15-year-old was also arrested.
MORE VIOLENCE IN THE USA: Ralayzia Taylor said this week that men in Charlotte, North Carolina attacked her with… https://t.co/P7gtBxbHeu

— TransValid (@TransValid) November 15, 2016
Officials with the Federal Bureau of Investigation confirmed that they are monitoring the situation and working with local law enforcement.
(Images via Charlotte Mugshots)