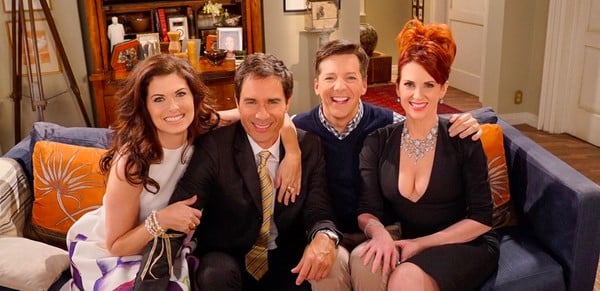 Shortly after the cast of the iconic sitcom Will & Grace reunited in a video for Hillary Clinton, there was talk that it might be the precursor to a full-on reunion season.
Megan Mullally sat down with Pridesource and shed some light on those rumors.
Said Mullaly:
"All I can say is that there is a very good chance that that might happen. It's not happening right this second. I mean, we're not rehearsing or anything like that. But there is a very good chance that something is going to materialize."
She added:
"So speaking theoretically, in a completely made-up world where "Will & Grace" is coming back to NBC for 10 episodes – just in that made-up world – it couldn't be a better time. (Laughs) I mean, it couldn't possibly be better timing. I think more so now than even when we started! And who would have ever – I mean, it's heinous that it's because Donald Trump is the president-elect. That's just a crazy sentence that nobody would have ever thought they'd utter. But having said that, at the same time, that just gives us carte blanche."
Mullally said that because it's topical, it's right:
"I think the first rule of any show – and again, we're speaking hypothetically – is that it be funny and entertaining. I mean, it's comedy. If you're doing a comedy, the first rule is that there be good comedy in that comedy show, so that's the jumping off point. Then, from there – the show was always very topical. For eight seasons, extremely topical – so much so that (director) Jim Burrows was always telling the writers, "Honey, it's crazy topical – it's not gonna stand the test of time." But I just think that's what the show is. It's a very topical, current show. We had a gay marriage on "Will & Grace" in 2000/2001. And I was like, gay marriage?! I mean, it was just really early."
Check out the full interview here.