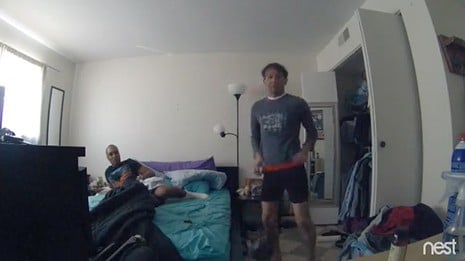 A Colorado couple discovered their landlord having sex with a man in their apartment after receiving a motion detection notice from their Nest camera.
The landlord, Carlos Quijada, has been charged with criminal trespassing, a felony, and misdemeanor obscenity.
After Quijada, 39, entered the residence, Pierce received a notification on his phone that the Nest system had detected noise in the apartment.
When Pierce subsequently checked the camera feeds, he saw Quijada and another man inside his bedroom.
The video shows the men each removing their pants immediately upon entering the room and then climbing atop the bed. Following a six-minute round of oral and anal sex, Quijada's partner used one of DiGiulio's dresses–plucked from a laundry pile–to wipe his genitals. At one point, Quijada uses another garment to attack a lubricant stain left on the green bed sheet.
Pierce, who provided the X-rated security video to TSG, said that the blue dress used as a post-sex clean-up rag was worn by his wife at the couple's March wedding ceremony.
The couple vacated the premises shortly after discovering what their landlord was using them for.