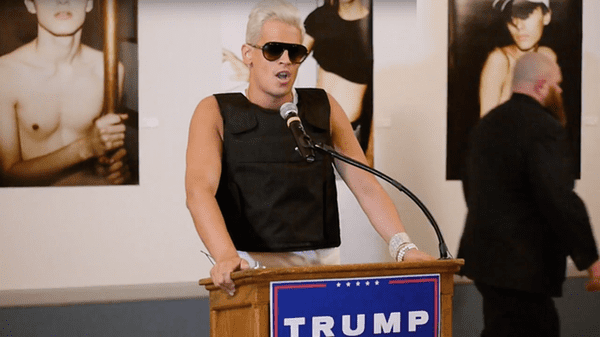 Calls to boycott Simon & Schuster are rising after news broke that gay white supremacist, Islamophobe, transphobe, fame-whore, Breitbart editor and con man Milo Yiannopoulos received a $250,000 book deal with the publisher's imprint Threshold Editions.
"They said banning me from Twitter would finish me off. Just as I predicted, the opposite has happened," Yiannopoulos told THR, confirming the upcoming book without commenting on financial details. "Did it hurt Madonna being banned from MTV in the 1990s? Did all that negative press hurt Donald Trump's chances of winning the election?"
…Threshold and Simon & Schuster were not available for comment, but people with knowledge of the situation say Yiannopoulos is getting an advance of $250,000 for his book. The autobiographical book is his first, though Yiannopoulos, a flamoboyant and gay conservative, has a wide following for his writing, especially at Breitbart News, where he is an editor.
"I met with top execs at Simon & Schuster earlier in the year and spent half an hour trying to shock them with lewd jokes and outrageous opinions. I thought they were going to have me escorted from the building — but instead they offered me a wheelbarrow full of money," Yiannopoulos told THR.
Some are calling for a boycott of the publisher for providing a platform for hate:
And at least one journal, the Chicago Review of Books, says it will not cover a single Simon & Schuster title in 2017:
Entertainment Weekly adds that authors with the publisher are pissed:
Some of the authors criticizing Simon & Schuster for the deal include writers who have contracts with the publisher. "I'm looking at my @simonschuster contract, and unfortunately there's no clause for 'what if we decide to publish a white nationalist," Danielle Henderson, whose memoir, The Ugly Cry, is set to be released by Simon & Schuster in 2018, tweeted.
"Sigh, @simonschuster," Tim Federle wrote. "This is a major bummer to me as one of your gay authors."
Rainbow Rowell, known for young adult novels like 2013's Eleanor & Park, said, "It's fair to expect mainstream publishers not to hand money and megaphones to hateful extremists. Gross move, @simonschuster."
Comedian Sarah Silverman also commented, tweeting, "The guy has freedom of speech but to fund him & give him a platform tells me a LOT about @simonschuster YUCK AND BOO AND GROSS."