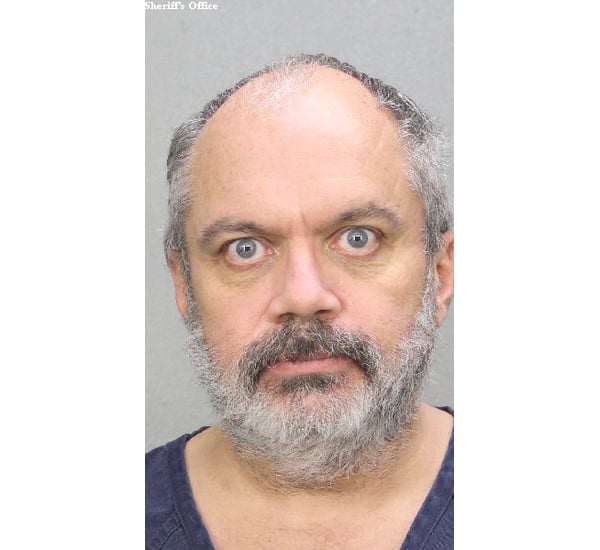 Federal prosecutors are dropping a criminal case against Craig Jungwirth, who threatened a Labor Day weekend Orlando-style massacre at gay bars in Wilton Manors, Florida.
The decision to drop the case against Craig Jungwirth comes about six weeks after prosecutors publicly acknowledged in court that the evidence against him was "weak."
Jungwirth, 50, of Orlando and formerly of Wilton Manors, has been jailed since early September.
The paper adds:
Prosecutors did not elaborate on the reasons for the decision in court records.
Prosecutors are legally barred from pushing ahead with a case if they don't believe they would be able to prove their allegations in court.
FBI spokesman Michael Leverock referred questions to the U.S. Attorney's Office.
Sarah Schall, a spokeswoman for the U.S. Attorney's Office, declined to comment late Tuesday.
Jungwirth had left this message on the page of a Facebook user in late August, threatening the attack:
My events are selling out cause you faggots are total patsies. None of you deserve to live. If you losers thought the Pulse nightclub shooting was bad, wait till you see what I'm planning for Labor Day.
You can't never catch a genius from MIT and since you faggots aren't dying from AIDS anymore, I have a better solution to exterminate you losers. [SNIP]
I'm gonna be killing you fags faster than the cops kill ni**ers. It's time to clean up Wilton Manors from all you AIDS infested losers.
More details of an affadavit released by the FBI were reported by 7News Miami:
The FBI has taken over Jungwirth's case and according to a federal complaint, Jungwirth has been reported to the police before. The federal complaint states, "multiple complaints for stalking and harassing behavior were documented, as well as incidents of sabotage, vandalism, and trespassing."
The federal complaint also states an FBI agent interviewed the owner and general manager of a Wilton Manors nightclub, and both individuals stated they had interactions with with Jungwirth and he had previously acted in an aggressive manner.
The federal complaint goes on to detail an interview with one of the individuals who contacted Wilton Manors Police in regards of the Facebook posts. The complainant stated they have filed multiple reports against Jungwirth — one that resulted in a restraining order against him.
According to the federal complaint, the complainant also told officials in the past several months, Jungwirth sent them thousands of threatening text messages, Facebook messages and phone calls — many times with Jungwirth stating, "I'm going to get you."
Jungwirth has been on the radar of South Florida's gay community for some time.
Wrote the blog Peacock Panache:
Earlier this year we reported on Craig Jungwirth – a man who took over the Beach Bear Weekend event in Florida and used it to solicit and scam money from unsuspecting members of the LGBTQ community. What began as a story of hisharassment of the Sisters of Perpetual Indulgenceexploded after information surfaced that not only were the events listed for his Beach Bear Weekend event fake but also all hotel bookings through the event website didn't actually reserve local hotels (as they'd never spoken to Jungwirth or any event organizers).
Following those two stories (here and here) Craig Jungwirth embarked on a harassment campaign against both this publication as well as the individual writers associated with it. He sent harassing text messages. He left vaguely threatening voice mails. He bombarded our social media and comments sections with spam and threats. He even attempted to hack our server several times to access the articles written about him.
Jungwirth faced up to five years in prison, three years of supervised release and a $250,000 fine if convicted.
At a Nov. 15 hearing in federal court in Fort Lauderdale, Anton told a judge that prosecutors had determined the evidence against Jungwirth was "weak" and circumstantial. But he said at the time that investigators were continuing to work on the case.
Investigators were not able to link the alleged threat to Jungwirth, who they said has about 59 Facebook profiles. One theory they were considering was the possibility that he had posted the threat from another profile.
The case could be picked up again if evidence came in that makes the case stronger.