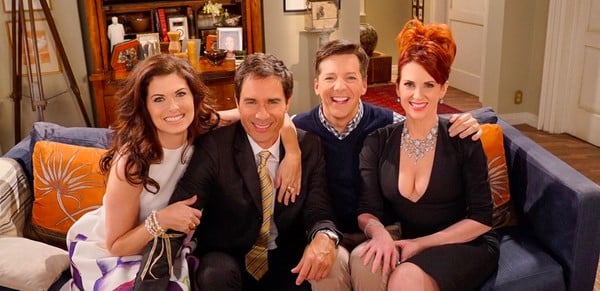 Will & Grace is returning for 10 episodes, NBC announced today at the Television Critics Association press tour, EW reports:
Original series creators Max Mutchnick and David Kohan will act as showrunners and executive producers, while prolific director James Burrows, who directed every episode of the show during its initial eight-year run, is on board to direct and executive produce.
"We're thrilled that one of the smartest, funniest, and most defining comedies in NBC history is coming back," said NBC Entertainment Chairman Robert Greenblatt. "This groundbreaking series for everything from gay rights to social and political commentary — all disguised as a high-speed train of witty pop culture — is coming back where it belongs."
The cast, who will all be returning, had been coy about rumors that the show would return.
Leslie Jordan, who played the sassy "frenemy" of Karen Walker on the hit sitcom, appeared to have spilled the beans on a revival of the beloved show in an interview.
Declared Jordan: "Here's the way it works: [NBC] has ordered 10 [episodes]. It'll be for next season, so they'll go in in July."
Debra Messing quashed Jordan's statement, claiming a revival was "nothing beyond talks."
Megan Mullally had spoken about "the completely made up world" where the show was coming back for 10 episodes shortly after the cast of the iconic sitcom Will & Gracereunited in a video for Hillary Clinton.
Watch the first promo:
https://www.youtube.com/watch?v=wDe934lJlqY