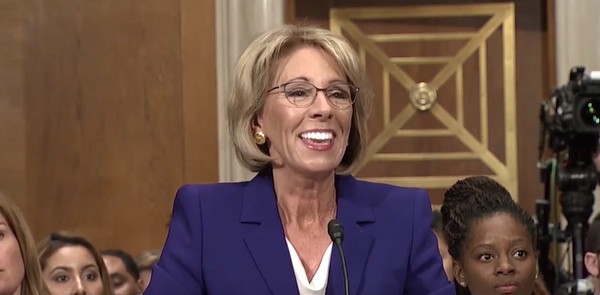 Education Secretary Betsy DeVos met with LGBT organizations and families to discuss the Trump's administration's repeal of protections for transgender students.
It has been reported that DeVos objected to rescinding the protections before ultimately agreeing.  President Trump is said to have interceded, forcing DeVos to either resign or accept the revocation of the guidance. Attorney General Jeff Sessions needed her consent because the guidance was issued jointly by both their departments.
The Wednesday meeting included the National Center for Transgender Equality (NCTE), Equality Michigan and GLSEN.
Discussions consisted of a one-hour meeting with transgender families followed by another meeting with the three groups. Four Education Department officials also attended the second meeting.
According to the Washington Blade, GLSEN Executive Director Eliza Byard said the representative LGBT groups addressed the immediate consequences of withdrawing the Obama-era guidance and ways in which DeVos "might be able to mitigate the pain, fear, and confusion that decision has caused."
"Above all, we ensured that DeVos heard – directly from us – that we will not budge or compromise when it comes to the full support and protection that all of our children, including LGBTQ youth, deserve from this administration, from the Department of Education and from its Office for Civil Rights," Byard said.
NCTE Executive Director Mara Keisling said DeVos didn't mention any objections she had to withdrawing the guidance because the meeting focussed on protecting transgender students in the future rather than how the current situation came about.
Following the meeting, Keisling said:
"Right now, we're limited in what we can do with the federal government, but this was one thing we could do.
"We could bring families, and that was really the important thing here. I think so many people were just outraged that they took a policy that had taken a decade or more to craft and do the groundwork, and then just threw it out in less a week of Attorney General Sessions being in office. He came into office and immediately started shooting at trans people, and she was only in office a couple weeks more than that."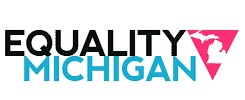 Equality Michigan Executive Director Stephanie White said her organization arranged the meeting to convey the "profound negative consequences" of the withdrawal of the guidance protecting transgender students.
"We also ensured that the secretary heard from transgender students and their parents directly about the impact of discrimination and harassment at school," White said. "We wanted her to understand that these are life and death issues for transgender young people across the country and that we will not waver or compromise in our commitment to ensuring that every student, regardless of their gender identity, is provided with equal protection and opportunity to thrive."
In a statement, DeVos said she was "grateful for the opportunity" to speak with families and LGBT rights supporters "about their concerns, thoughts, fears and suggestions."
Keisling added that although the meeting yielded no firm policy commitments, it was useful because "it's always good when people are willing to sit down and talk, when people are willing to be told that what they did was really bad."
Read the full report at The Blade.