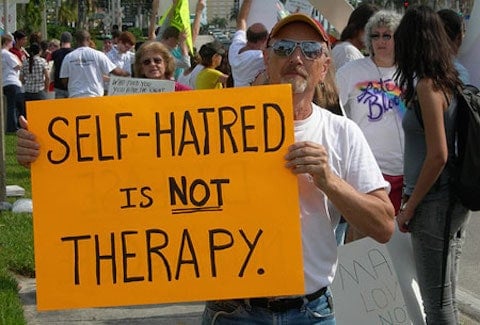 ABC's 20/20 is set to air an investigation into the harmful practice of gay conversion therapy on Friday evening.
Conversion therapy is a discredited mix of psychological treatments and faith-based counselling aimed at changing a person's sexual orientation.
Treatments in the past have included chemical castration, hormonal therapy, electroshock therapy, the use of nausea-inducing drugs and masturbatory reconditioning.
The practice has has been outlawed for licensed mental health providers in California, Oregon, New Jersey, Vermont, Illinois and Washington, D.C. The 20/20 report reveals that many camps are not operating as licensed mental health facilities and are therefore not covered by laws prohibiting the practice.
ABC also explores a conversion therapy program in Alabama in which Christian pastors were convicted of child abuse following allegations of beatings administered to teens who resisted efforts to change their sexual orientation.
Peter Sprigg of listed hate group Family Research Council (FRC) told ABC News:
"I certainly hope that [Trump's] administration will pull back from some of the aggressive activism that the Obama administration engaged in.
"As a Christian, I believe that the Bible teaches that to choose to engage in homosexual conduct is a sin.
"If someone is experiencing something mentally, like same-sex attractions, that is causing distress, then that's a mental health issue."
Sprigg denied that physical abuse takes place during conversion sessions.
He added that FRC does not believe that "same-sex attractions are a choice" but that he also does "not believe that experiencing same-sex attractions is a normal and natural variant of human sexuality."
Watch ABC interviews with two conversion therapy survivors below.