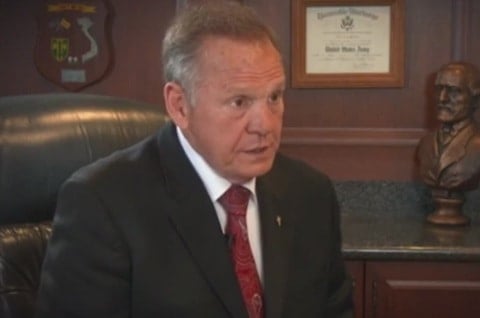 The Alabama Supreme Court has upheld the decision to remove Roy Moore from his position as chief justice.
Last September, Moore was suspended without pay for the remainder of his term after being found guilty on judicial ethics charges stemming from his defiance of the Supreme Court's ruling on same-sex marriage.
In January 2016, Moore issued an order prohibiting 68 probate judges from issuing marriage licenses to gay couples telling them they had a "ministerial duty" to do so.
In his order, he cited the U.S. Supreme Court's Obergefell ruling, claiming that the high court's ruling only applied to Michigan, Kentucky, Ohio and Tennessee, the states directly involved in Obergefell.
During a press conference following the decision to uphold his suspension, Moore said the prosecution "politically" motivated and declared that he remains Chief Justice despite the suspension.
"I have done my duty under the laws of this state to stand for the undeniable truth that God ordained marriage as the union of one man and one woman," he added.
He also claimed that the decision to prosecute him, the verdict and suspension, and the special supreme court's decision "illegal."
"This case," he said, "was a politically motivated effort by the Judicial Inquiry Commission and certain homosexual and transgendered groups to remove me from office because of my steadfast opposition to same-sex marriage."
AL reports:
Moore also said he would reveal early next week for any plans he may have to run for the U.S. Senate seat now held by former Alabama Attorney General Luther Strange, who was appointed to replace Jeff Sessions who is now U.S. Attorney General.
Richard Cohen, president of the Southern Poverty Law Center which had filed the ethics complaint against Moore issued this statement after the court's ruling today:
"Roy Moore's violation of the Canons of Judicial Ethics was egregious. He got what he deserved. We'll all be better off without the Ayatollah of Alabama as our chief justice," Cohen stated.  
In November 2003, Moore was suspended from his position as Chief Justice for refusing a federal order to remove a Ten Commandment monument from the Alabama Supreme Court building. He was elected again to the chief justice job in 2012.
Watch Moore's press conference below.