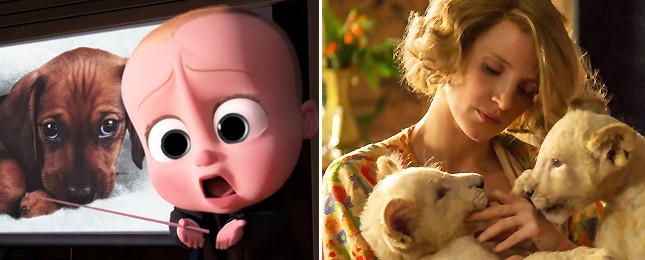 With a childish man-baby terrorizing us from the White House who needs a movie about one? Shocked as I am to say this… "surprise!," the weekend's #1 film THE BOSS BABY is actually good.  For those fearing a one-joke gimmick film (Baby in a suit. Get it?), fear not. The new Dreamworks comedy actually has at least five broad joke topics. In descending order of amount of miniature jokes mined from the big ones:
Corporate culture
Babies
Childhood imagination
Sibling rivalry
Puppies
While Dreamworks pictures largely still lack the emotional complexity of their Pixar counterparts — this isn't Inside Out or anything — at their best they still offer plenty to giggle at for fans of animation.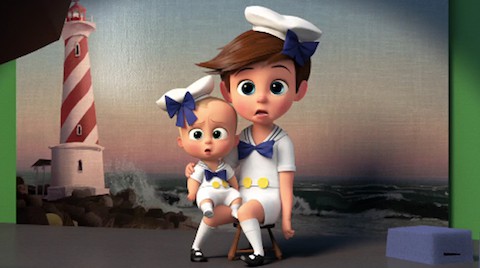 Boss Baby is grabby and funny right from its credit sequence, which features a 7½ year old boy named Tim imagining where babies come from. (Tim is voiced by Miles Bakshi, who happens to be the grandson of infamous 77 year old animator Ralph Bakshi best known for the 1972 film Fritz the Cat). He pictures a cloud-city bureaucracy named "Baby Corp" where babies are processed, diapered, powdered, and separated by their ticklishness in an elaborate contraption that combines conveyor belt surrealism with hamster tube nonsense.
But the enjoyable silliness doesn't end there.
Most of the film takes place within Tim's overactive fantasy life. He's an only child, who suddenly feels he's been replaced when his parents (voiced by Jimmy Kimmel & Lisa Kudrow) bring home a new baby brother (Alec Baldwin provides the voice of the titular monster). Boss baby takes over his parent's lives immediately and what little energy they have left they devote to their jobs at "Puppy Co.".
In keeping with Tim's imagination as chief storytelling device the film is really hopped up on stylized shifts within its visuals. The movie's best and funniest joke is the overwhelming cuteness of puppies as an existential threat to the existence of future babies. (If only heteronormativity were that easy to disrupt!). Which is not to say that it's a great movie. For every tired joke that's someone made hugely funny again (Elvis impersonators) there's another which needs to be retired  (a villain in drag. hahah–just stop, Hollywood! Okay?). Still, the movie's brisk pacing and often surprising slapstick gags — what is a butt plug joke doing in a family movie? — make this a good time at the movies.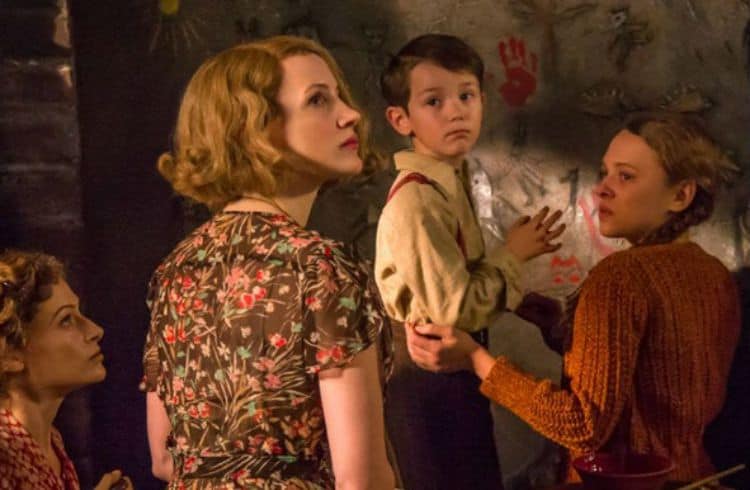 The weekend's #1 limited release movie is also worth seeing. Ginger goddess Jessica Chastain stars as THE ZOOKEEPER'S WIFE, Antonina Zabinksi, in this true story based on the international bestseller. The Zabinski family are zookeepers in Warsaw until German bombs hit their attraction during World War II. Poland surrenders quickly.
Much to the Zabinski's horror they learn that their surviving animals will all be killed for meat to feed soldiers unless they can strike a deal with fellow zookeeper and now Nazi officer (Daniel Brühl, Hollywood's go-to Germanic villain who isn't named Christoph Waltz).
While working on this deal with the devil, Antonina and her husband begin a dangerous game, hiding Jews in their now empty zoo until they can figure out a way to get them out of Poland to (relative) safety in a world gone mad. Chastain anchors the drama with a subtle character arc, and tearjerking moments abound.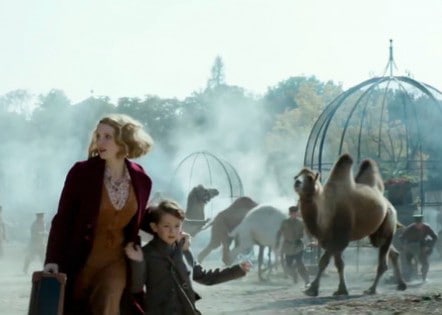 Though the Holocaust genre is exceedingly well worn at the movies, recent worldwide events and political movements have reminded us that we still need to keep learning its sobering lessons; the politics of hate and the dehumanizing of scapegoated minorities remain a real threat to peace in the world ([email protected]#* we're back to the man-baby in the White House again!).
Though The Zookeeper's Wife doesn't reinvent the wheel on this exceedingly well worn genre, the setting is, at least, a fresh one. The emotional pull of nature, through purring lion cubs, cuddly bunnies, and majestic beasts of all kinds is definitely felt. And then, even more powerful comes its haunting absence. The animal backdrop brings first an unexpected softness and then an alien undertow to an otherwise familiar but ever harrowing story.
WEEKEND BOX OFFICE
What did you see this weekend?
The Boss Baby NEW
Ghost in the Shell
Kong: Skull Island
Get Out
The Zookeepers Wife NEW in select cities