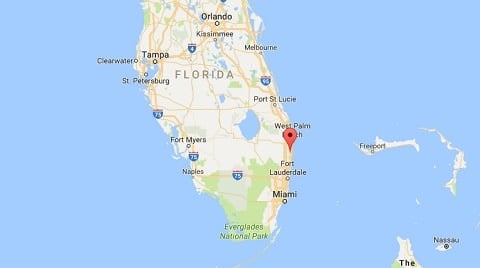 A man was robbed and kidnapped in Florida last Saturday night after he visited the home of another man he met on Grindr.
The attack took place in Boynton Beach, Palm Beach County. The victim was abducted and taken at knife point back to his home, which was then ransacked by three men. Among the items stolen was the victim's dog, named Coco.
Wrote the Boynton Beach Police Department:
We have just arrested a man who kidnapped and robbed a man they met using the dating app, Grindr. Detectives also recovered the victim's dog, Coco, who was taken during the robbery. Detectives have questioned a second suspect, and are looking for the third suspect. They believe that all 3 men are responsible for at least two other robberies of men they met on Grindr, and additional charges are pending. The suspect is identified as Vadol Reed, 22, of Boynton Beach. He is charged with robbery with a firearm and kidnapping. He will be taken to the Palm Beach County Jail. Coco will be reunited with her owner very shortly.
And a later update:
9 pm: Boynton Beach detectives this afternoon arrested two individuals who robbed another man after meeting on the dating app Grindr. Rundy Robertson, 19, and Devin Bowie, 20, are charged with armed robbery with a weapon and false imprisonment. Vadol Reed, who was charged earlier today for his involvement in another robbery, is also facing armed robbery and false imprisonment charges in this case. The trio robbed a West Palm Beach man at knifepoint on March 29.  Detectives plan to file additional charges against Robertson and Bowie for their involvement with Reed in the March 31 robbery of another man they met on Grindr.
The Palm Beach Post reports:
The victim told officers he began chatting March 31 with [Vadol Marquise] Reed on Grindr, a gay dating site. On Saturday, Reed invited the man over to his home on the 400 block of Northeast 10th Avenue.
While the victim was in the company of Reed, two masked men entered the room where they were sitting, the report said. One man held a knife and the second a metal pole. Reed allegedly pulled out a handgun and told the victim to relinquish everything of value.
With a knife to his throat, the robbers forced the victim to drive to his home where they stole numerous items, including Coco, the report said.
The victim was allegedly forced to drive the men back to the residence in Boynton Beach and was told not to report the incident or they would return to kill him.
The victim, who has not been named, said he did not report the robbery to law enforcement for fear of reprisals. Instead, he published an alert on Facebook and received a message from another man who said he was also robbed at the Boynton home.
The police report notes: "The other male stated that he also did not report the incident because he was scared; however, the two together felt like they needed to do something or others would fall victim."
22-year-old Reed faces charges of robbery with a firearm and kidnapping. A second man was arrested but has since been released pending further investigation. Police believe that Reed and the two other men are responsible for at least two other robberies of men they met on Grindr,
Coco has since been returned to its owner.