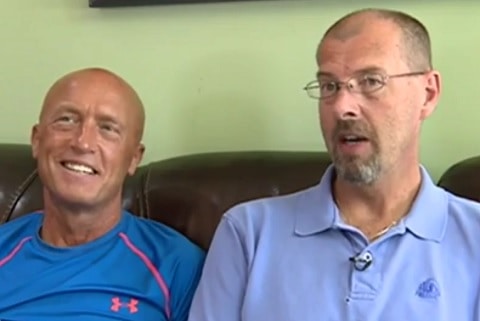 The Nebraska Supreme Court has ruled in favor of three couples contesting a state ban prohibiting same-couples from fostering and adopting.
Striking down the ban as unconstitutional, the court ruled that the 1995 policy was the same as a "whites only" employment sign, according to Reuters.
According to Vice, the 2015 case was brought on behalf of three couples, including Lisa Blakey and Janet Rodriguez and Todd Vesely (above left) and Joel Busch (above right). Both couples found that although they passed required background and home checks, they were prevented from becoming foster parents because of the state policy.
A state district court ruled in favor of the couples and ordered the state policy to be rescinded.
That ruling was appealed on the grounds that the couples did not have standing because they did not apply for and were not rejected for a foster care license. The state also argued that the there was no case as it did not enforce the policy.
However, the Supreme Court noted that the policy – "that 'heterosexuals only' need apply to be foster parents" – was not removed from the state Department of Health and Human Services website until 2015, leading to confusion.
In their ruling, the Supreme Court justices noted that the policy was "legally indistinguishable from a sign reading 'whites only' on the hiring-office door."
Judge John Wright wrote:
"The harm the plaintiffs wish to avoid is not just the possible, ultimate inability to foster state wards. It is the discriminatory stigma and unequal treatment that homosexual foster applicants and licensees must suffer if they wish to participate in the foster care system."
In a statement, the office of state Attorney General Doug Peterson said that the appeal brought up "legitimate jurisdictional issues that needed to be considered by the court.
The state has been ordered to pay the couples' court costs and legal fees.