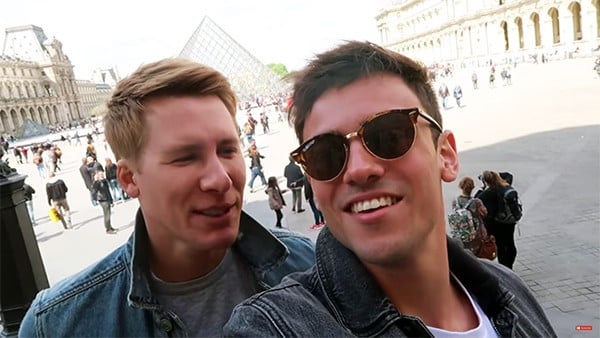 Tom Daley took to YouTube this week to share clips from his and fiancé Dustin Lance Black's romantic weekend in Paris, in which they recreated their first visit together four years ago.
It could be seen as a victory lap of sorts for Black, whose well-received miniseries When We Rise provided a slice of gay history and premiered last month. Ice cream cones along the Seine and stops to Notre Dame and the Louvre feature in the video, along with side-by-side snapshots of reenacted poses. Says Daley:
Lance and I went on a romantic weekend away in Paris! It has been 4 years since we were last there—we retraced our steps from our first ever trip as a couple 4 years ago!
After 4 years, a lot has changed but our weekend away in Paris was just as special as ever!
The Olympic medal-winning diver and Oscar-winning screenwriter have set their wedding date for later this year.