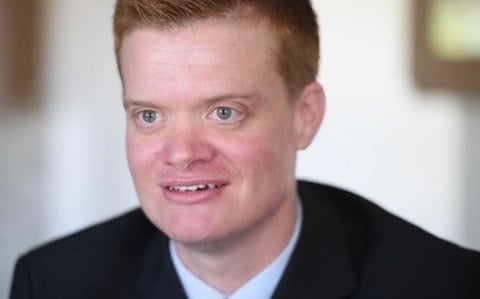 The American Civil Liberties Union has filed a lawsuit on behalf of a transgender man who was refused a hysterectomy by a California hospital.
The lawsuit alleges that Dignity Health's Mercy San Juan Medical Center in Sacramento discriminated against 35-year-old Evan Michael Minton when he sought a hysterectomy as part of his transition from female to male. It is claimed that the hospital abruptly canceled the procedure a day before it was due to take place.
NOT FAIR! 'Evan Michael Minton was denied a hysterectomy at Mercy San Juan just hours before he was scheduled to… https://t.co/vFEjgjtBvz

— TransValid (@TransValid) April 20, 2017
Minton's doctor performed the hysterectomy at another Sacramento-area hospital three days later, but he said the initial denial still causes frustration and disappointment.
The Sacramento Bee reports:
The case pits the desires of transgender patients seeking sexual reassignment surgery against Catholic doctrines, which bar sterilizations such as hysterectomies in most instances. And it comes as federal and state lawmakers across the country are attempting to roll back protections of transgender persons, according to the ACLU, which joined the firm Covington & Burling in filing the lawsuit.
"Given the national context, where legal protections for transgender people are under attack, it's particularly important that in states like California the law is really clear," said Elizabeth Gill, senior staff attorney for the ACLU Northern California.
She said the hospital's denial is a "clear-cut case of discrimination," based on the state's Unruh Civil Rights Act, which prohibits discrimination against individuals based on their sex, race, religion, age, disability, marital status or sexual orientation. The suit seeks $4,000, the minimal amount of damages under the law, Gill said.
Said Dignity Health Mercy San Juan officials in a statement:
"We have not been served with the complaint and cannot speak to the allegations until we have the opportunity to review them.
"What we can share is that at Dignity Health Mercy San Juan Medical Center, the services we provide are available to all members of the communities we serve without discrimination. We understand how important this surgery is for transgender individuals, and were happy to provide Mr. Minton and his surgeon the use of another Dignity Health hospital for his surgery within a few days.
"We do not provide elective sterilizations at Dignity Health's Catholic facilities in accordance with the Ethical and Religious Directives for Catholic Health Care Services (ERDs) and the medical staff bylaws."
Minton, who came out as transgender six years ago, said: "It's almost magical, just to be able to be congruent with who I am – to have my outer body match my inner self. When I got my complete body, I said, 'The rest of my life starts here.' "
Watch an interview with Minton below.