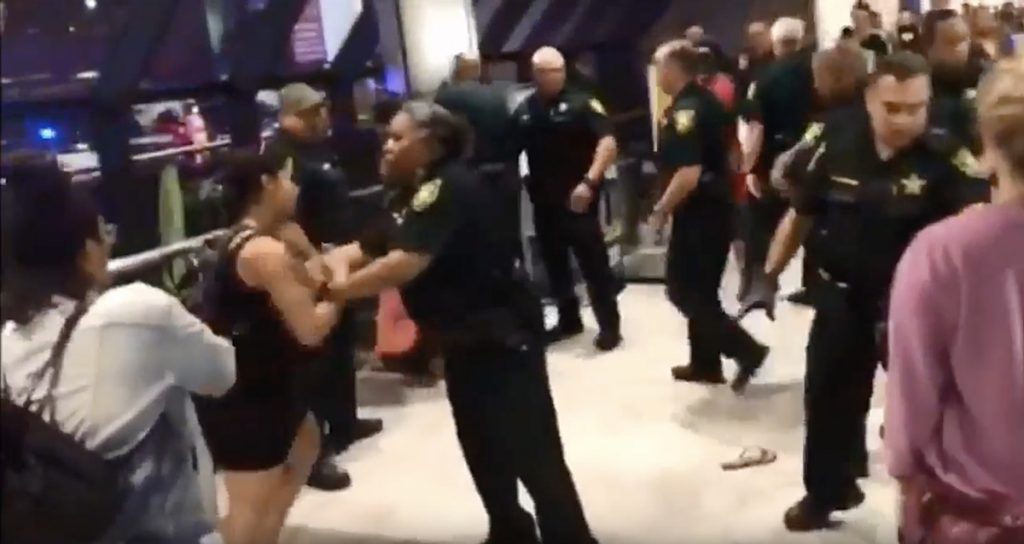 Passengers frustrated after multiple flight cancellations brawled with police who had been brought in to control chaos at Fort Lauderdale's airport on Monday. Several arrests were made.
Spirit, a Florida-based discount airline, blamed the chaos on a canceled flights as a result of labor negotiations with its pilots.
"We are shocked and saddened to see the videos of what took place at Fort Lauderdale–Hollywood International Airport this evening," the company said in a statement Monday. "This is a result of unlawful labor activity by some Spirit pilots designed to disrupt Spirit operations for our customers by canceling multiple flights across our network."
The company accused the pilots of putting their "quest for a new contract ahead of getting customers to their destinations" and the safety of Spirit staff.
Spirit said it filed a federal lawsuit against the Airline Pilots Association, which it accused of intentionally disrupting the airline's operations, leading to hundreds of canceled flights.
"The Air Line Pilots Association, Int'l and the Spirit pilot group it represents are not engaged in a job action," the statement read.
"Rather, ALPA and the Spirit pilots are continuing to do everything possible to help restore the company's operations, which have experienced significant problems over the past several days."
The union added that while it will continue those negotiation efforts, it will "actively defend the association, its officers and its member pilots against the unwarranted and counterproductive legal action brought this evening by Spirit Airlines."
Watch:
@nbc @NBCNews Riot breaks out at #FLL over @SpiritAirlines #cancelled flights. People are angry, some arrested. #worstcustomerservice pic.twitter.com/y1VaH7Lb9w

— José L. Rodríguez (@asg749d) May 9, 2017
https://twitter.com/brionkahalbert/status/861800023570436097?ref_src=twsrc%5Etfw&ref_url=https%3A%2F%2Fwww.buzzfeed.com%2Ftamerragriffin%2Fspirit-airlines-brawl-and-lawsuit