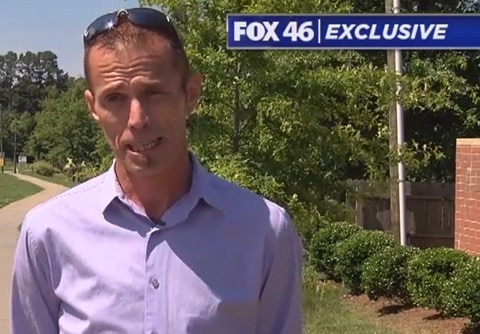 Donald Trump's staff has reportedly reached out to the Deplorable Pride group which was banned from this year's parade in Charlotte, North Carolina.
The White House Office of Political Affairs contacted Deplorable Pride on Monday in what co-founder Brian Talbert said was a "show of support."
According to the Charlotte Observer, Deplorable Pride's float "would have included a female impersonator dressed as first lady Melania Trump, surrounded by a handful of other female impersonators wearing blue-sequined 'Make America Great Again' evening gowns."
Talbert added that the conversation included questions about Charlotte Pride's refusal to allow his group's float in the city's pride parade. The call was initiated, he said, because White House staff wanted to thank the group for joining a sit-in at a Starbucks last weekend, where the staff had mocked a customer wearing a Trump t-shirt.
Said Talbert:
"I was told to expect a call from the White House, but I still just about fell over when I got it.
"They asked me to email them everything I could on what happened. I was told: 'The president is going to want to see this.'
"It definitely re-affirmed what I thought about the type of man he is."
Charlotte Pride has defended the decision to ban the Deplorable group as it has denied participation by "other organizations espousing anti-LGBTQ religious or public policy stances."
"Charlotte Pride," continued the statement, "envisions a world in which LGBTQ people are affirmed, respected, and included in the full social and civic life of their local communities, free from fear of any discrimination, rejection, and prejudice."
https://twitter.com/deplorable_lgbt/status/875792141548740608
However, officials with the Mecklenburg County Republican Party have said they are supporting Deplorable Pride.
"It's a shame that a community once known for its inclusiveness is excluding their own based on political views," said the county's Republican Party spokesman, James Tatro.
Talbert added that although he has received death threats, "you are not going to stop hearing from Deplorable Pride."
"I'll be honest," he said, "I've enjoyed exposing the bigoted hypocrisy of the left. We have gone from being oppressed to being the oppressor in less than 50 years."