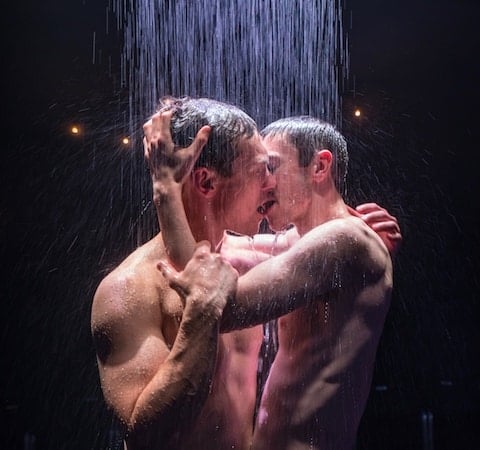 From moans that arise in the dark, to the tangle of naked men revealed when the curtain disappears, it's immediately clear that Afterglow aims to be frank and explicit about sex. But the insightful new play, which opened June 23 in the intimate Loft at the Davenport Theatre, applies the same unflinching approach to exploring love and intimacy, knowing that not every post-coital mess can be wiped away with 409.
First, let's untangle the men. Josh (Brandon Haagenson) and Alex (Robbie Simpson) have an open marriage, and are about to have a kid via surrogacy. The former is a theatre director, passionate about his work (natch), and the latter is enduring a pummeling chemistry program. Darius (Patrick Reilly) is the guest star here. Younger and a massage therapist, he's never been in a relationship and doesn't usually go for partnered men.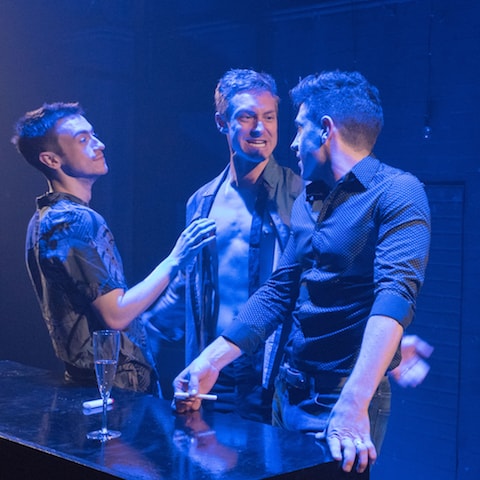 Written and directed by S. Asher Gelman, Afterglow takes the shape of a love triangle, the same sort men and women have been depicted in for ages. But in the context of modern gay romance, for which nonmonogamy has become a model of evolved partnership, Gelman asks what happens when the accepted rules of an open relationship are no match for the uncontrollable rush of genuine feeling.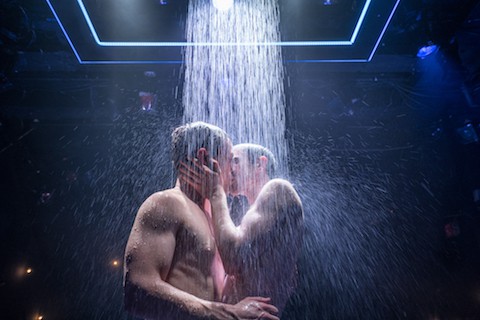 Josh, whom both partners agree requires more attention, pursues Darius as a friend with benefits. The connection that grows between them tests the boundaries of Josh and Alex's arrangement, exploring the difficulty of setting black-and-white parameters to any relationship. When does friendship plus sex add up to something more? It may be thrilling to explore that grey area when you have someone to go home to, but what if you don't? 
While the characters approach these questions from very different angles, it's easy to identify with each one. All three actors embody recognizable perspectives, from Alex, who wavers between complete trust and aching jealousy, to Darius, who knows he deserves a partner devoted solely to him but falls for Josh, anyway.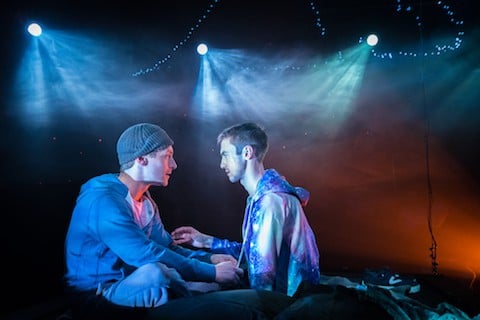 Through candid emotional dialogue, Gelman demonstrates a nuanced understanding of the stakes in gay dating and relationships (at least among the urban and affluent). From feeling paralyzed by choice in the face of mobile-app man buffets, to investing different levels of meaning into multiple sexual relationships, Gelman's characters grapple articulately with issues many gay men regularly face.
This sense of mirroring is echoed in Gelman's production for Midnight Theatricals, which finds audiences on either side of the stage facing each other (on the evening I attended, the crowd was almost exclusively gay men). Jamie Roderick's atmospheric lighting draws the space together, and illuminates the play's erotic moments with a beautiful clarity. In transitions that often feel like cinematic bridges in the story, the actors reconfigure Ann Beyersdorfer's versatile scenic design, setting the stage for their own romantic quagmire.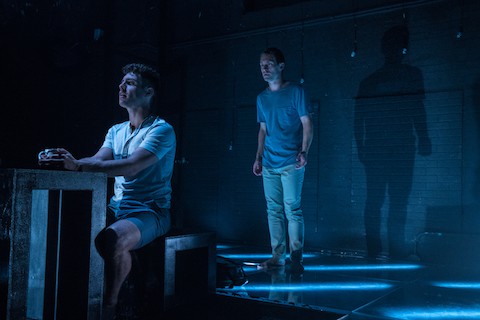 Depending on your point of view, the follies inherent to loving (and yes, fucking) outside of conventions may seem like a strange new world, or very much like part of your everyday life. Whatever brought all of those men into the theatre to face one another (and I'm guessing it was the skin), it's vivid and honest depictions like these that foster a greater understanding of the way we live now.
Follow Naveen Kumar on Twitter: @Mr_NaveenKumar
(photos: Mati Gelman)