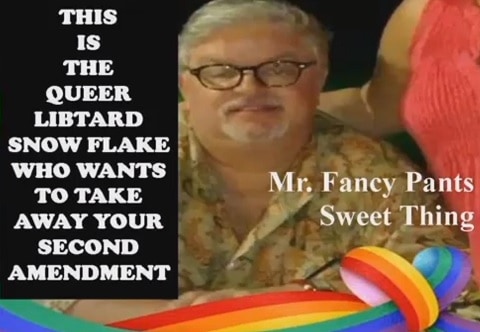 A gay man in Cape Coral, Florida who is running for public office alleges that he and his partner have received two threats from the Ku Klux Klan.
James Schneider – who has received a number of abusive messages including the one above – said the couple found a note attached to their front door demanding he drop out of the race for District 5.
It read: "We know where you live [expletive]. We are going to win. Quit now. When you girls least expect it, We will be here for a nice visit."
Another piece of paper left at this door included the name Emperor Paul Lamonica along with an email address, a street address and a Ku Klos Knights website.
NBC2 reports:
Throughout this campaign, [Schneider] has seen degrading posts put on social media about him.
"Every time I see one of these things on Facebook, the pile-ons from people who don't realize that their cyber bullying and saying horrific things and they don't even know who I am," Schneider said.
Schneider has reported the recent threat to police and the FBI. He's also installed security cameras at his home.
"I mean literally we were sleeping 25 feet from where they dropped this thing off," Schneider said. " Whether it's real or not whoever did it they shook us up."
Although Schneider knows campaigns can get heated, he said this is a step too far.
Shaken but not beaten, he hopes his sexual orientation won't persuade voters one way or another.
"I don't want sympathy votes; I want votes on the fact that I'm a better-qualified candidate," Schneider said.
Cape Coral city council candidate James Schneider reported to police receiving a hate letter labeled from the KKK. https://t.co/4z4Vsph0uJ

— David Dorsey (@DavidADorsey) August 31, 2017
The Ku Klos Knights mission statement reads in part:
"We are White Christian patriots of the true Invisible Empire of the Ku Klux Klan of our great country. We are for the future of our white Christian children and for our generations to come, join a traditional white klan who believes in the teachings of Jesus and therefore we do not believe in HATE. We are against homosexuals of both genders and we believe that marriage is between one man and one woman as Jesus teaches….We must stand true to our klan and our brothers and sisters and family and pray that we can maintain our sense of loyalty to each other. Stand up and be counted!"
Watch the NBC report and an interview with Schneider below.
NBC-2.com WBBH News for Fort Myers, Cape Coral & Naples, Florida