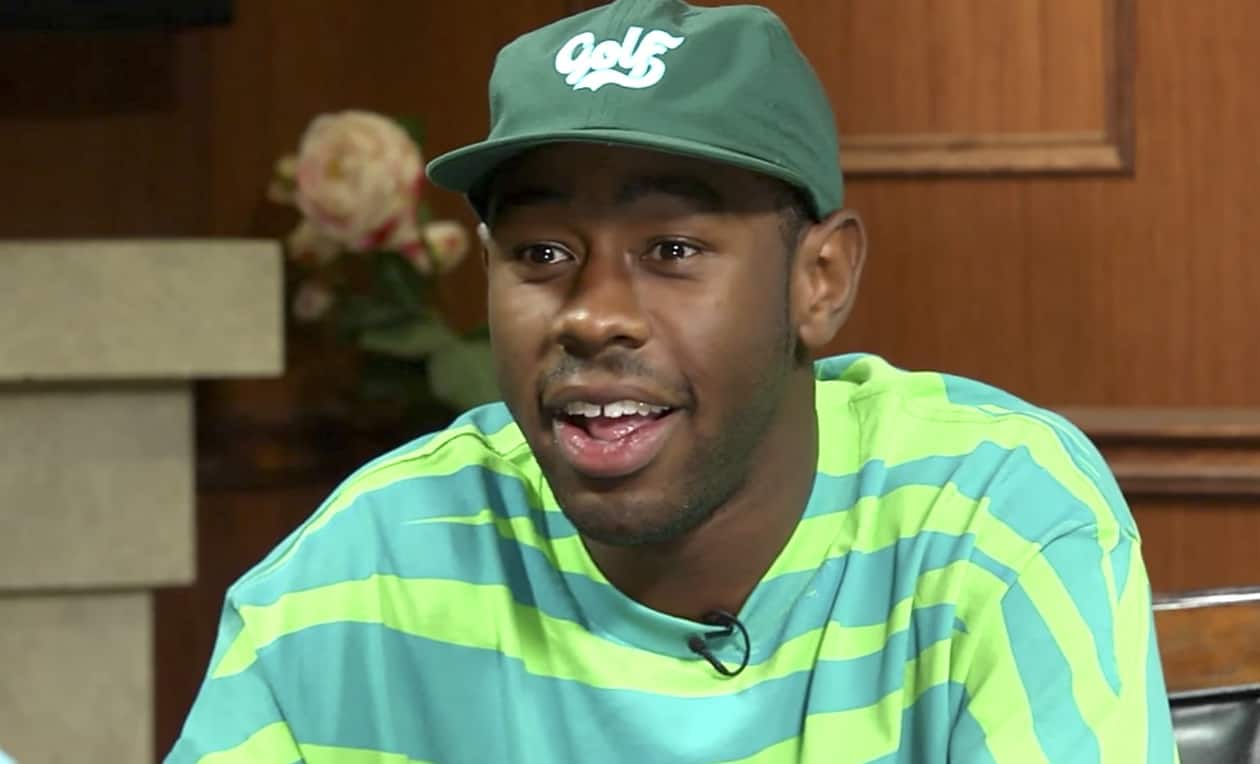 Rapper Tyler the Creator revealed that he had a boyfriend in his teens during an interview on Know Wave's Koopz Tunes radio podcast.
Said Tyler after the host suggests that he's more open-minded than he's been in the past: "I had a boyfriend when I was fifteen in f**king Hawthorne. If that's not open minded, I don't know what is."
While Tyler's statement is certainly breaking news following all the speculation about his sexual orientation over the past few weeks, the host doesn't follow-up on it.
[soundcloud url="https://api.soundcloud.com/tracks/337993513″ params="color=ff5500&auto_play=false&hide_related=false&show_comments=true&show_user=true&show_reposts=false" width="100%" height="166″ iframe="true" /]
Tyler's new album, Scum F**k Flower Boy, leaked last month ahead of its July 21 release date, and the lyrics to several songs sparked speculation that he was coming out as gay.
https://www.instagram.com/p/BWNuSEblWe6/?taken-by=feliciathegoat&hl=en
The most interesting takeaway from the leak is the album's lyrics, which can be interpreted as Tyler coming out. As well as pointing out the album's name itself perhaps being indicative of this, Twitter users highlighted bars such as, "I been kissing white boys since 2004″ on "I Ain't Got Time," and the album's seventh track "Garden Shed," featuring Estelle, where Tyler raps, "That was real love I was in, Ain't no reason to pretend" before spitting "All my friends was lost / They couldn't read the signs / I didn't want to talk / I tell 'em my location and they ain't want to walk" later on in the song.
Despite always being one to joke around and poke fun at himself, Tyler's been playing around with his sexuality for years, with a Tweet back in 2015 seemingly affirming these notions.
I TRIED TO COME OUT THE DAMN CLOSET LIKE FOUR DAYS AGO AND NO ONE CARED HAHAHHAHAHA

— T (@tylerthecreator) April 13, 2015
He also said this in August of last year in response to a tweet from Kendall Jenner regarding rumors that they were dating:
NOT POSSIBLE, WE'RE BOTH GAY https://t.co/xoCXLyThPv

— T (@tylerthecreator) August 16, 2016
Also, via Highsnobiety, here are the lyrics to Tyler's first verse on "Garden Shed" referenced above. They suggest the garden shed is the closet, the Frank reference is Frank Ocean…
Ayo
Garden shed, garden shed, garden shed, garden shed
For the garden
That is what I was hiding
That is what love I was I in
Ain't no reason to pretend
Garden shed, garden shed, garden shed
Garden shed for the garcons
Them feelings I was guarding
Heavy on my mind
All my friends lost
They couldn't read the signs
I didn't wanna talk and tell em' my location
And I didn't wanna walk
Truth is, since you kid, I thought it was a phase
Thought it would be like the Frank poof, gone
But, it's still going on
Big fan of the base 10
Polk a dot nose how it goes
Had to keep it on the subwoofer
A couple butterflies when I float
I was always like ehhh
Barely interested, but I went to my boys like bruh
This is a crucial subject matter
Sensitive like cooking batter
'Till the temperature that's rising
Stepping on that ladder
Tryna grab the rings of Saturn
I'm a plant it by the time you hear this
Chittin' chatter bout to heat it
It will not fucking matter
Tyler has been creating controversy for years with his lyrics. He used the word "faggot" and its variants 213 times on his debut album and was blasted by GLAAD for homophobic and misogynistic lyrics.
Tyler told NME at the time: "I'm not homophobic. I just think 'faggot' hits and hurts people. It hits. And 'gay' just means you're stupid. I don't know, we don't think about it, we're just kids. We don't think about that shit. But I don't hate gay people. I don't want anyone to think I'm homophobic."
Tyler also told MTV News, in response to the controversy: "Well, I have gay fans and they don't really take it offensive, so I don't know. If it offends you, it offends you…If you call me a n—a, I really don't care, but that's just me, personally. Some people might take it the other way; I personally don't give a sh–."
He later told Arsenio Hall that the word "faggot" is only offensive if you choose to be offended:
"That's just a word, you can take the power out of that word. The way that I see things, it's you chose to be offended if you care more about stuff like that. And that might sound very ignorant, but if you're a black person and someone calls you the n-word and you get offended, maybe you might be. But if I know that I'm not a n-word…I'm not gonna get offended because I know that I'm not that. Frank [Ocean] is gay and I use that word all the time. He doesn't care because he knows me. He knows when I say that word I'm not thinking of someone's sexual orientation. It's just another word that has no meaning."
In 2015, Tyler began selling a t-shirt on his website under his 'Golf Wang' fashion label intended to make a statement against homophobia by appropriating a white supremacist symbol and coloring it with a rainbow.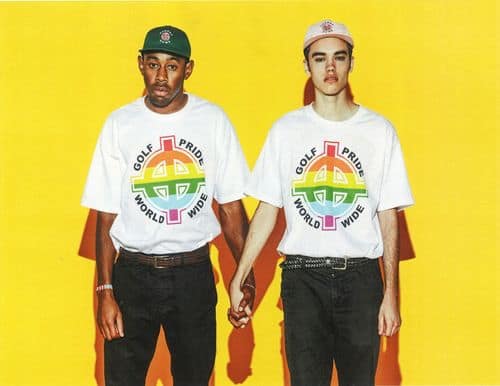 He penned a lengthy explanation on his Tumblr about the shirt:
It was a period in time where all i wanted to do was read about different dictators across the world. The way that one man could control so many brains always intrigued me. This opened a door to a lot of things, one of them being the Nazi regime during the 40s. Soaking my brain with as much info as i could on the subject, i pondered to myself if there was anyone still pushing this Nazi propaganda during these days? That is when i came across Neo-Nazis, The Ku Klux Klan and The White Nationalist Community. To make it simple, its just a group of Caucasians who take pride in being white. Nothing wrong with that correct? But the weird thing is that its primarily supported by White Supremacist organizations.( KKK, Aryan Nation, Etc) Now it doesn't take a rocket scientist to know that these guys aren't fans of Blacks, Gays, Asians or anything else that doesn't fit in "white" box.
Now having the thought process that i have, i asked myself some questions: What if a black guy wore this logo on a shirt? Would he be promoting self hate? Would he be taking the power out of a shape? What if a gay guy wore this on a shirt? Would he promoting Homophobia? Then BAM! I Had it. Throw a little rainbow in the logo ( i still wonder, who was the guy that said a rainbow is the gay symbol? thats another article stay tuned) and take a photo with a white guy in it and we have an amazing photo. The thing that tops it off is the homo erotic tone of the hand holding, which to some degree HAS to piss off the guys who takes this logo serious. This made the photo even more important to me, because it was me playing with the idea of taking the power out of something so stupid. Or maybe my whole idea on this is stupid. Who knows, but why not try it out?
Also, ever since my career started, ive been labeled as a homophobe, simply because of my use of the word faggot. Again, trying to take the power out of something, I WAS NEVER REFERRING TO SOMEONES SEXUAL PREFERENCE WHEN USING THAT WORD. I mean, i'm legit one of the least homophobic guys to walk this earth but, most people just read the surface. But maybe someone will see this photo and say " hey, he's just mocking gays" or " this has a negative undertone to it, he is still pushing this homophobic whatever the f–k it is". What ever it is, i just wanted to give you guys some background info on the design before you purchase the shirt. You should know what you are wearing. be safe, love. RACISM F–KING SUCKS golfwang.com
Here's what Tyler said about a gay rapper to Larry King in 2014: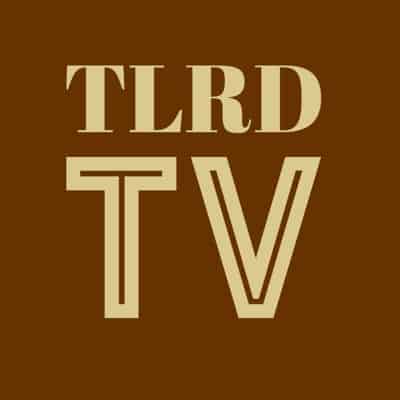 Twitter also joined the speculation about whether Tyler was coming out or just trolling:
https://twitter.com/TheGorgeousGoon/status/884313021228691457?ref_src=twsrc%5Etfw&ref_url=http%3A%2F%2Fwww.highsnobiety.com%2F2017%2F07%2F10%2Ftyler-the-creator-flower-boy-album-leak%2F
https://twitter.com/HE_VALENCIA/status/884190140742193152
https://twitter.com/CamonDash/status/884323047058149376
https://twitter.com/scarypotter777/status/884343967839510528?ref_src=twsrc%5Etfw&ref_url=http%3A%2F%2Fwww.highsnobiety.com%2F2017%2F07%2F10%2Ftyler-the-creator-flower-boy-album-leak%2F
https://twitter.com/youriefrank/status/884324082984079361
https://twitter.com/thatgoodhyucc/status/884302004948021248?ref_src=twsrc%5Etfw&ref_url=http%3A%2F%2Fwww.highsnobiety.com%2F2017%2F07%2F10%2Ftyler-the-creator-flower-boy-album-leak%2F
https://twitter.com/nogoodmyles/status/884299795103440896
https://twitter.com/BasedChasen/status/884331440539803648
https://twitter.com/malierell/status/884314880269996032
Tyler has yet to comment on the speculation. The statement about having a boyfriend is his most revealing to date.
The new album has 12 tracks featuring Khali Uchis, Estelle, Roy Ayers, Lil Wayne, Jaden Smith and Tyler has already released two – "Who Dat Boy" featuring A$AP Rocky and "911 / Mr. Lonely" featuring Frank Ocean.