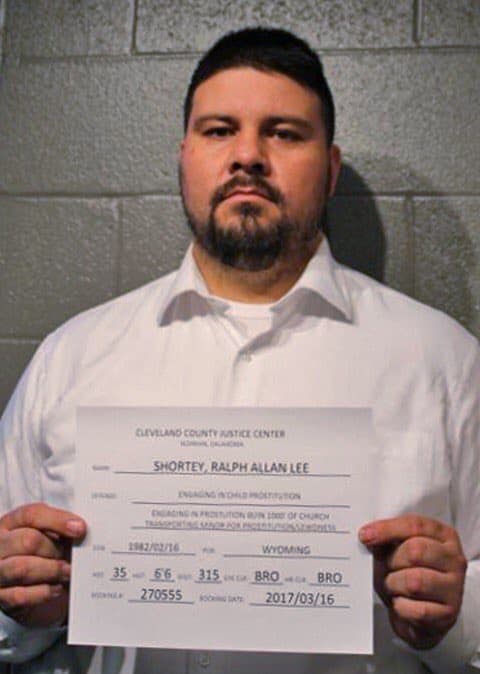 Married Oklahoma GOP state Senator Ralph Shortey, who resigned in March after being caught with a male teen in a motel room, has been hit with four federal child porn and sex trafficking charges.
The two transportation of child pornography charges stem from allegations that he used a smartphone to send a video involving a "prepubescent girl" and videos involving young boys from an America Online email address in October 2013, the documents said.
The production of child pornography charge is connected with an allegation that he persuaded a minor to send at least one inappropriate picture. Shortey is accused of starting a conversation with the minor on a social media application in February 2016 and the production of child porn happened between then and March 2017, the court documents said.
The fourth charge accused Shortey of soliciting a minor to engage in a commercial sex act in March, according to the documents. The charge relates to three charges stemming from an alleged incident with a 17-year-old boy at a Moore motel.
Shortey was arraigned Wednesday afternoon in the federal courthouse in Oklahoma City. After the arraignment ended, he was placed into the custody of the U.S. Marshals Service and will be released on a $5,000 bond.
Shortey was found in a Super 8 motel room with the 17-year-old male teen on March 9. It was later revealed that Shortey had offered the boy cash for "sexual stuff." The teen had a history of soliciting sex on Craigslist according to his parents.
An affadavit later emerged which revealed text messages Shortey exchanged with the teen referencing bareback sex in which the teen called him "daddy" and Shortey called him "baby boy."
Read the affadavit here.
Shortey had been charged by the state of Oklahoma with engaging in child prostitution, engaging in prostitution within 1,000 feet of a church, and transporting a minor for prostitution.
The state has dropped those charges in lieu of the federal ones, KOCO reports:
"I believe this case is best handled in one venue and have every confidence the U.S. Attorney's Office will prosecute this matter expeditiously," Cleveland County District Attorney Greg Mashburn said in a news release. "It was an honor to work with the various law enforcement agencies involved in this investigation."
Shortey has three children.