Senator Ted Cruz (R-TX) liked a two-minute long bisexual adult film clip from the Twitter account @SexuallPosts late last night and the "like" was quickly discovered by Cruz's followers, like author and activist Dan Savage: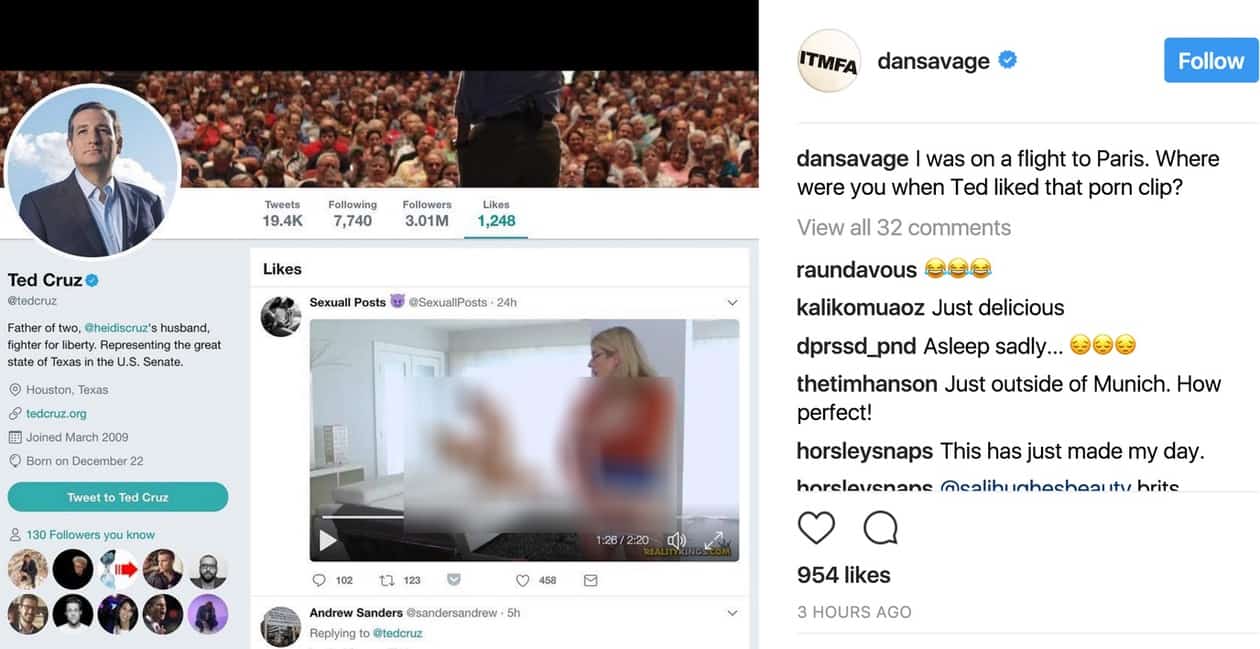 Cruz spokeswoman Catherine Frazier quickly addressed the senator's late night Twitter activity and said "the offensive tweet posted on @tedcruz account earlier has been removed by staff and reported to Twitter."
However, Frazier mistakenly said the video was posted to Cruz's account, not liked.
https://twitter.com/catblackfrazier/status/907488125445963779?ref_src=twsrc%5Etfw&ref_url=http%3A%2F%2Fwww.nydailynews.com%2Fnews%2Fpolitics%2Fsen-ted-cruz-likes-porn-video-twitter-article-1.3488752
The clip vanished from Cruz's feed at approximately 1:30 am.
The former state solicitor general in 2007 tried barring Texans from buying sex toys by penning a failed argument that stretched for 76 staggering pages. Cruz's one-time attempt to prohibit sales contradicted what one witness had to say about the future senator's sexual encounters.
"Ted Cruz thinks people don't have a right to 'stimulate their genitals.' I was his college roommate. This would be a new belief of his," Craig Mazin tweeted last year.