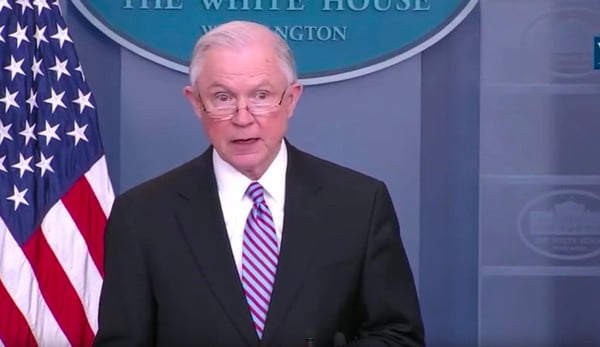 This morning we reported that Attorney General Jeff Sessions personally ordered a DOJ hate crimes lawyer to Iowa to prosecute a case against a man who murdered a transgender high school student last year, an act which the NYT described as revealing his "nuances" on transgender issues.
Lambda Legal blasted the move in a press release, excoriating Sessions for this "publicity stunt," calling it "the height of cynicism."
Lambda Legal Director of Strategy Sharon McGowan issued the statement:
Of course it is important and right that the Department of Justice assist in bringing to justice the murderer of Kedarie/Kandicee Johnson, one of the far too many transgender people, and especially transgender people of color, targeted in the ongoing lethal epidemic of hate violence. But it is the height of cynicism for Attorney General Jeff Sessions to use this – frankly rare – instance of civil rights enforcement under his tenure to deflect from the current department's sustained opposition to its historic mission.
No one in the Trump administration has done more to harm LGBT people, and especially transgender people, than Jeff Sessions – and in a government chock full of anti-LGBT appointees, that is saying a lot. From revoking the guidance that assured trans kids they were welcome in school to asserting that transgender workers do not deserve protection against employment discrimination to defending Trump's unconstitutional ban of transgender troops, Sessions has again and again defined transgender Americans as second-class citizens and has created an environment that encourages and enables violence against trans people.
He has similarly undermined the civil rights and safety of people of color, through such actions as his order to review all consent decrees designed to address systemic police violence.
For Sessions now to seek credit for helping prosecute hate crimes against transgender people is akin to him handing out gasoline and matches and then looking for a pat on the back when he prosecutes someone for committing arson.
We hope that the Senators questioning Sessions at Wednesday's oversight hearing of the Judiciary Committee are not distracted by this publicity stunt designed for their benefit and instead hold him accountable for the Department of Justice's appalling failure to do its job under his direction.
Sessions recently reversed an Obama-era policy that protected transgender people from discrimination under Title VII of the Civil Rights Act.
Earlier this year, Sessions vowed to "aggressively" pursue anti-transgender hate crimes.
Speaking at a Justice Department hate crimes summit in Washington in June, Sessions said "we have a responsibility to protect people's freedom, their religious rights, their integrity, their ability to express themselves, to push back against violence and hate crimes that occur in our country."
He noted specifically the duty to "enforce hate crime laws aggressively and appropriately where transgendered individuals are victims."
The Attorney General noted the May sentencing of a Mississippi man to 49 years in prison for the murder of a transgender teenager, the first federal hate crimes prosecution involving the targeting of a transgender victim.