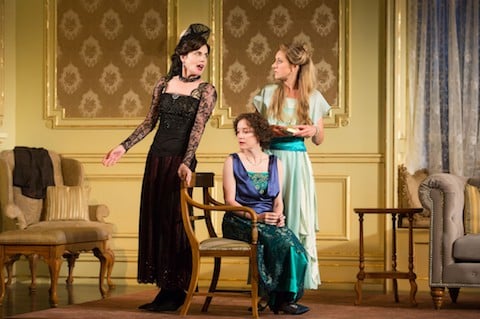 Time is a bitch.
That's pretty much the gist of Time and the Conways, J.B. Priestley's 1937 drawing room meditation on the concept, which opened in a muddled and bizarrely outfitted revival last night at Broadway's American Airlines Theatre. Despite a high-caliber cast, including Downton Abbey's Elizabeth McGovern, Tony-winner Gabriel Ebert, and Anna Camp, returning to the stage from Pitch Perfect fame, the family drama more often feels like an Anglicized episode of Dynasty —  and not a particularly fun one at that — rather than a metaphysical exploration.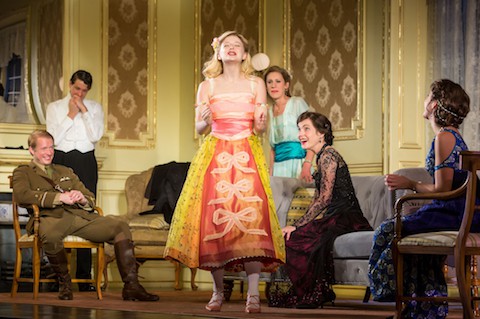 Resurrecting lesser works by venerated playwrights is typical for Roundabout Theatre Company (Priestley is best known for An Inspector Calls), as is tapping top directors to mount less-than-classic plays. Director Rebecca Taichman won a well-deserved Tony for her transcendent work on Indecent last season, and one might presume to find her in her element here, with another work that interrogates the fixity of time and place. But aside from two albeit breathtaking transitional moments, her staging feels staid, and the play's conceit slight.   
We meet the Conways on daughter Kay's 21st birthday in 1919, gathered in a Yorkshire living room that's curiously both the shape and color of butter (scenic design is by Neil Patel). It's the staging area for a game of charades unfolding in the next room for Kay's birthday party. The siblings, four sisters and two brothers (one just returned from World War I), variously don disguises from a box of old clothes and exit to join the game. (You'd be forgiven for wondering why the sisters already look like Project Runway victims; the costume design by Paloma Young is strange indeed.)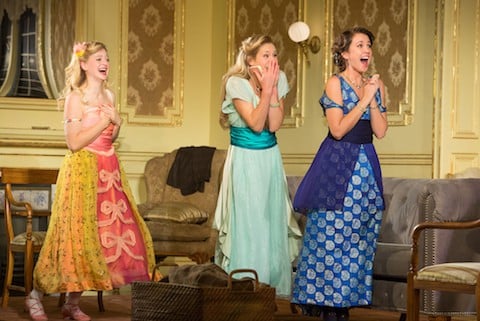 A few others play along as well, including a dour working class interloper who seems quite unwelcome (Steven Boyer) and a daft friend of the family whose dominant trait is compulsive giggling (that one of just two nonwhite cast members, Cara Ricketts, also plays the daffiest character feels a little unfortunate).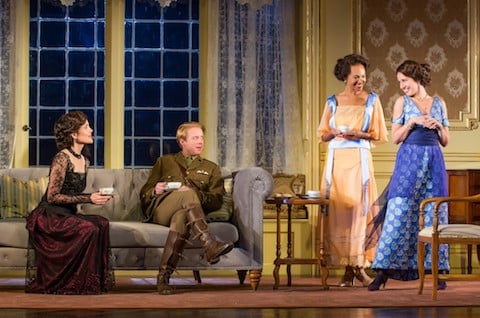 The war has just ended, and everyone seems to be bubbling with possibility in a way that feels somehow both canned and a bit over-the-top. Until we fast-forward to 1937 (haunting transition number one) and the same room looks to have turned from butter into ice. With their mother on the brink of ruin, the siblings turn up for a sour reunion and we bear witness to all their frustrated hopes. In a highlight of an otherwise unremarkable performance, McGovern's matriarch expresses the depth of her disappointment in how they've turned out.
Priestley's play lays bare a certain frivolity and folly to bourgeois postwar Britain with an eerie foreshadowing, given its writing before the breakout of World War II. But historical context aside, the play's setup hinges on our investment in relatively minor interpersonal dramas (e.g. one brother courts their giggly friend; she winds up with the other). By the time we return to the past for the third act, there are precious few surprises in store, and none of them land with much force.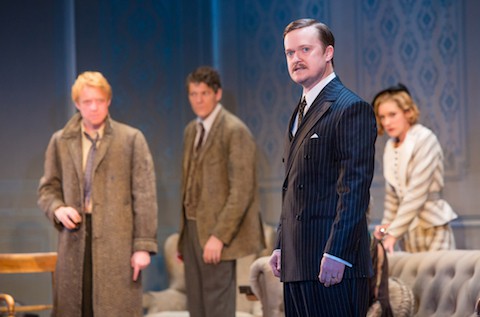 As Kay becomes a kind of reluctant Cassandra, peering between past and future, Charlotte Parry delivers the production's most emotionally grounded performance, even as her character loses her footing. The concept she comes to face, of time as a continuum upon which we exist all at once (which Priestley borrows from philosopher John William Dunne) is a curious one to turn over. The play itself feels rather flat all the same.
Follow Naveen Kumar on Twitter: @Mr_NaveenKumar
(photos: jeremy daniel)