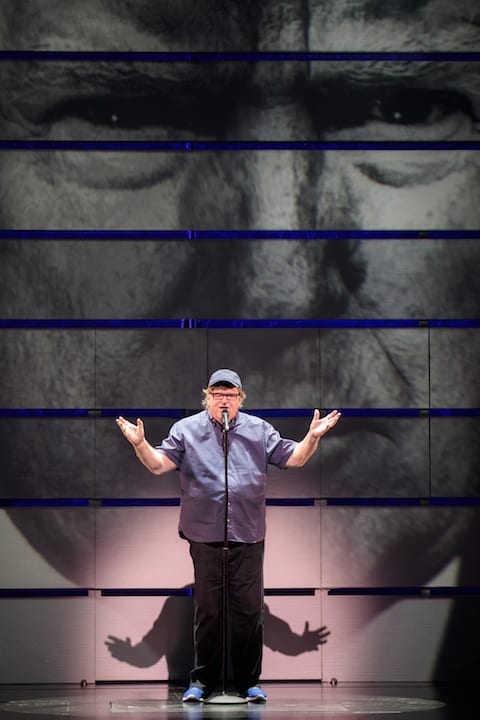 If you're lining up for The Terms of My Surrender, Michael Moore's one-man Broadway debut which opened August 10, you likely have a pretty clear idea of what you're in for. Aside from the lone Duck Dynasty extra chanting feebly from behind a "Drain the Swamp" poster on the evening I attended, those flocking nightly to the Belasco Theatre are squarely in the liberal choir, assembling to hear one of their most fervent preachers in a rare live appearance.
Moore jokes at the outset that his show is like a 12-step program, but it's somewhere closer to the five stages of resistance. Over the course of these 100-plus minutes, smoothly directed by Michael Mayer, audiences are faced with many of the fiery emotions that have erupted in a majority of Americans since election night. It begins with anger, as Moore lays out the harsh facts with his signature vehemence (and a tinge of "I told you so") in a rally-style opening monologue.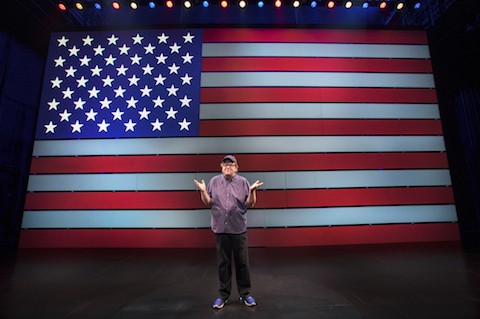 Though outrage is never far from the surface, Moore proceeds to uplift with stories of personal triumph in the face of adversity — how his entry in a speech writing contest at 17 led to racial discrimination legislation, the Jersey librarian responsible for saving his 2002 best-seller from the shredder — to show that big change starts with small action. Though he's led an exceptional life, Moore still plays the everyman, and his anecdotes are enough to light a fire under every seat in the house.
So, if you're looking to effect big change, here are five actions you can take now, inspired by Michael Moore's Broadway show.
1. 5calls.org: When Moore plugged this ingenious app, the woman seated in front of me wrote it down on her bare hand. This mobile app identifies pressing issues on a given day based on your selected priorities, provides phone numbers and scripts with talking points, and even dials your reps for you — all you have to do is stay on the line.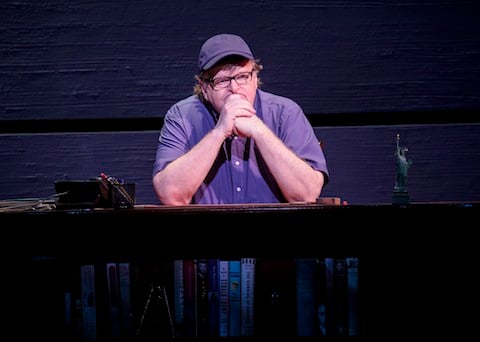 2. Be part of the "swarm of bees": One of Moore's metaphors for the resistance comes from the cartoons. You know when the bad guy has his head engulfed by a cloud of insects? That's what we need to do to Trump, Moore argues — surround him, piss him off, and throw him off balance. So keep tweeting @realDonaldTrump and get yourself blocked like Chrissy Teigen.
3. Show up: The evening Trump returned to New York having refused to denounce the white supremacists who caused deadly terror in Charlottesville, VA, Moore bused his Broadway audience to protests outside Trump Tower in Manhattan. Mark Ruffalo, Olivia Wilde, and Zoe Kazan were among the crowd. When the resistance assembles, as they did again in Boston this weekend, show up and be heard.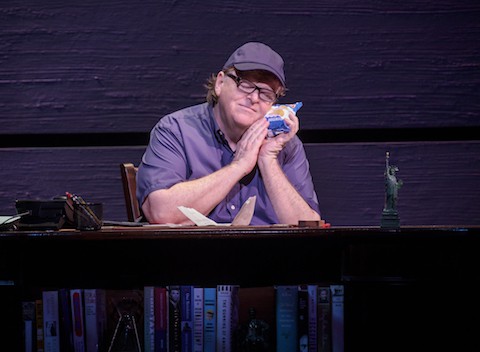 4. Run for office: As Moore attests from personal experience, some elected positions are well within reach — even for an 18-year-old hippie, and especially at the local level. If running for office isn't for you, even better. Moore makes a good point: The people who really want to run aren't the ones he'd like to see in office; it's regular folks who have no interest in politics who he thinks would do a better job.
5. Get inspired: If you've reached the point where just reading the news is exhausting, Moore will help get your head back in the game. It's not the sort of escape many people turn to Broadway for, but it's a welcome recharge for your convictions. Fortunately, the entire mezzanine is being sold for $29 a seat. Smile at the "Drain the Swamp" dude on your way in, he loves that.
Follow Naveen Kumar on Twitter: @Mr_NaveenKumar
(photos: joan marcus)