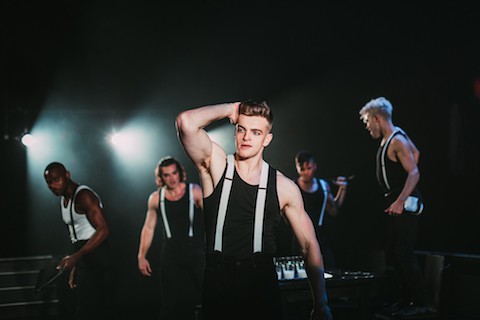 New York's latest hot spot has arrived off-Broadway. It's got everything: indie club beats from the likes of Bowie and Gossip, a crowd sprinkled with your Grindr faves, and of course, ripped, half-naked men shouting so as to be heard but only partially understood.
Alex deLarge and his "droogs" are invading Hell's Kitchen, where their ultra-fit physiques are sure to be appreciated in a rather more titillating than terrifying production of Anthony Burgess' A Clockwork Orange, which opened last night at New World Stages.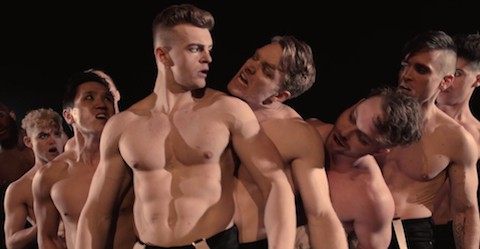 Director Alexandra Spencer-Jones all-male interpretation, which originated in London with her company Action to The Word, certainly caters to the neighborhood's carnal appetites while venturing an exciting, if not altogether realized, queer take on a classic. But perhaps due to an assumption of audience familiarity — with either Burgess' 1962 novel or the Stanley Kubrick film that followed 10 years later — the story's details are too frequently lost in a gyrating and sometimes chaotic churn.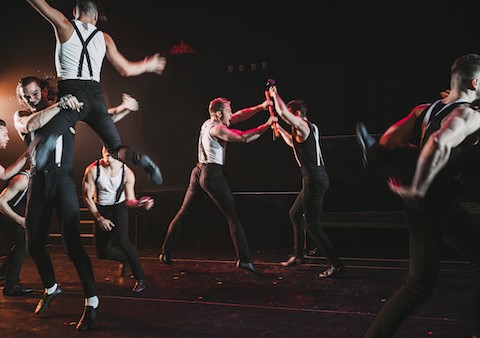 This much, at least, you'll get here: Alex and his gang are like, "ultra-violent" teenage terrors who steal, rape, murder, you name it. Alex gets caught by the authorities, subjected to experimental psychological treatment, "cured," and released. As in every iteration of Burgess' story, the gang speaks in "Nadsat," a Russian-infused slang the author invented himself.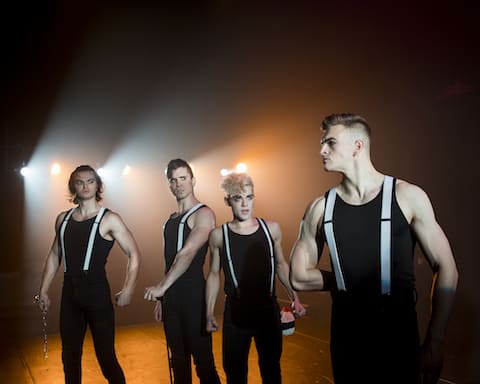 Since their language can be difficult to understand by ear, much onus falls to visual storytelling (as in Kubrick's vibrant and explicit film). Spencer-Jones opts for a minimal approach to design; the men are clad in black and white (suspenders and tank tops, a gun show courtesy of costume coordinator Jennifer A. Jacob) and play on a mostly blank stage, save four milk glasses and a pile of…yep, oranges (there is no scenic designer, only prop master Addison Heeren).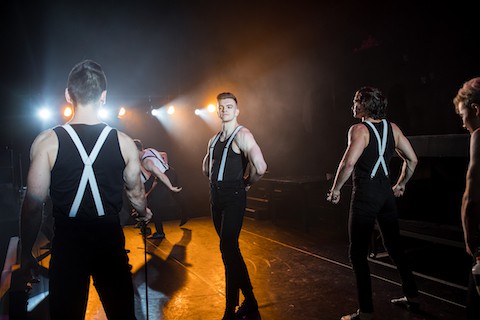 But the burden of storytelling often proves too much for the actors' bodies alone — strong though they are — as evidenced by the aforementioned shouting they do to compensate throughout most of the show's 90 minutes. Scenes of violence and delusion are played as erotic ballets, which are beautiful to watch and often just as confusing to interpret for plot.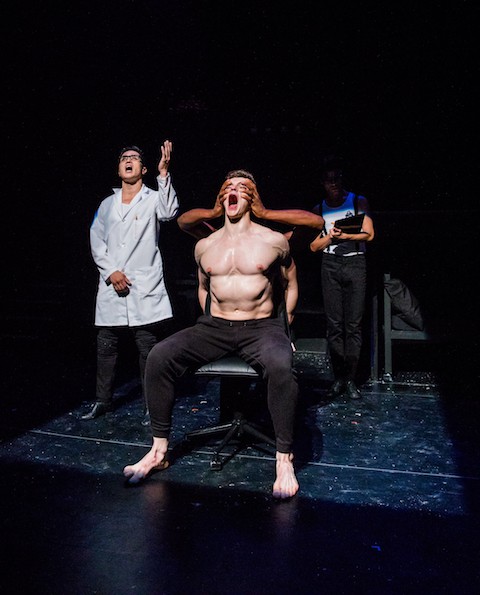 Leading the pack as Alex, Jonno Davies is the sole holdover from the London production (the otherwise American cast tries to keep up with his accent to varying degrees of success), and his performance is impressive for its athleticism alone. But for a play as much about psychosis as its expression in physical violence, it's difficult to imagine he has any inner life at all. Spencer-Jones consistently emphasizes Alex's exterior (the question isn't when he'll remove his shirt, but why he can't seem to keep one on), at the expense of conjuring him as a believable fuck up.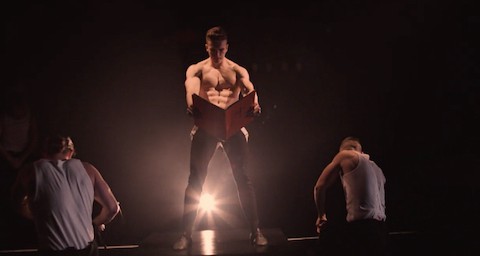 Clockwork Orange is itself a queer sort of narrative, and certain moments here — mostly of Shakespearean-inspired drag — shed interesting light. But the absence of flesh-and-blood women in a story so much about misogyny and violent male desire robs the play of its teeth. A lithe and lovely boy is "raped" from behind with a hand down his pants — and turns to kiss his assailant. It's a scene you might find around the corner at Industry Bar on a Friday night, hot but really quite harmless.
Follow Naveen Kumar on Twitter: @Mr_NaveenKumar
(photos: caitlin mcnaney)