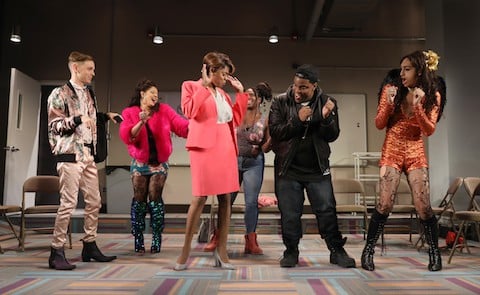 Listen up, children — class is in session.

But this isn't like any school you've enrolled in before. Your teacher will be Miss Darleena Andrews; you can call her Miss Darleena, Miss Andrews, or simply: Mama. Lesson No. 1? Mama does not play.
The leading lady in Philip Dawkins' Charm, which opened off-Broadway last night in a vibrant and totally captivating MCC Theater production, is inspired by the real life of Miss Gloria Allen, a trans icon who volunteered to teach etiquette, or charm, at Chicago's LGBTQ community center. An elegant role model with a zero-tolerance policy for BS, here the fictional Miss Darleena is embodied with dignified grace and grit by Sandra Caldwell, whose own journey as a transwoman isn't far from Allen's own.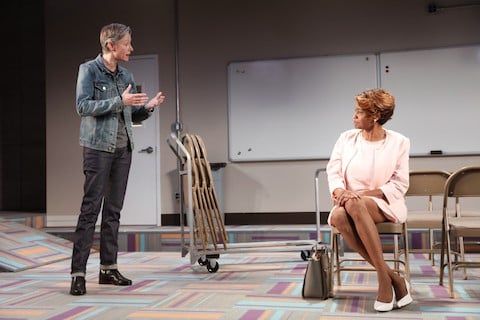 There's hardly a more suitable home for Dawkins' play than the Lucille Lortel on Christopher Street, a longtime locus for gay life, particularly for the young and underprivileged. When Miss Darleena's fabulously ragtag pupils first burst through the classroom door — most of them after the promise of free food — my friend leaned over to remark that this is exactly the scene on Saturday nights at St. Luke's down the block, where he volunteers with homeless queer youth.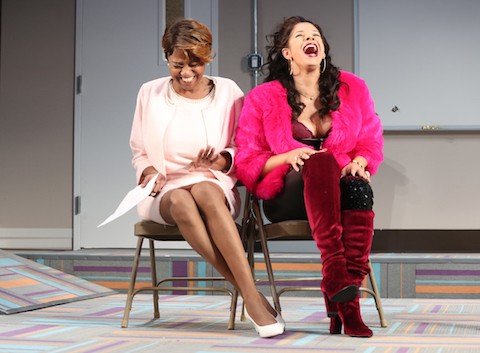 Though not everyone here is young, exactly. Take Ariela (a fiery Hailie Sahar) in her knee-high boots and fur, who at 33 is both too old and not old enough to take advantage of civic benefits offered to kids and seniors. Or Beta (impressive newcomer Marquise Vilson), whose aviators, ballcap, and bravado form a sort of adult facade to cover over his own vulnerability. Each one has their own reasons for attending "Charms," as the class becomes affectionately known, but everyone wants a piece of Mama's love.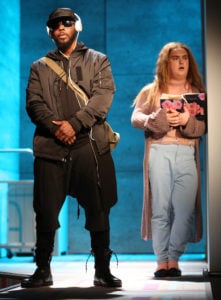 Miss Darleena is of another era, when what it meant to be a lady (or anyone with proper manners) was spelled out in black and white by her idol, Emily Post. Mama's notions of old-fashioned gender roles are challenged by the Center's administer of programming (Kelli Simpkins), who goes by D and identifies as non-binary. But while Darleena graciously jokes that she's an old dog learning new pronouns, the story of Charm ultimately soft-shoes around the central dilemma it raises.
"If you follow the rules of Charm," Mama tells the class, "you will show society that you are comfortable in every situation. And that you know how to make other people feel comfortable as well." It's a lesson in respectability politics, and it's easy to see how it might help her students comport themselves during a tea party at the Drake Hotel, a pipe dream Mama has for the program's culmination. But whether it's a queer person's job to make people feel comfortable about them is another question, one that had a very different answer when Darleena was young — and that Dawkins doesn't quite face head-on here.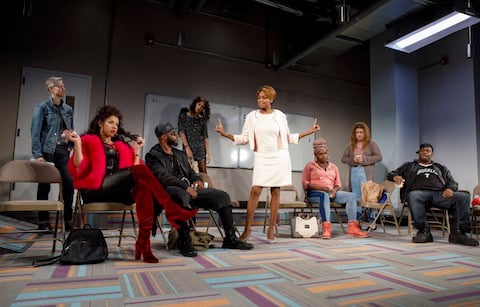 He tackles plenty, though, in creating palpable character portraits, from the spastic and rambling Lady (Marky Irene Diven), who breaks down in a crisis of gender confusion, to Victoria (Lauren F. Walker), a homeless mother of two at 23, and the most exuberant voice in the room. Under Will Davis' fine direction, the ensemble becomes a sort of family you'd choose for yourself if you could; it's almost impossible, over the course of these two hours, not to fall for every one of them.
In some ways, Charm is like the best nights many have spent on Christopher — filled with the kind of laughter that makes you forget yourself, just like you do when suddenly they're playing your song. And in the way it can all somehow bring you to tears, feeling like you've found your tribe.
Follow Naveen Kumar on Twitter: @Mr_NaveenKumar
(photos: joan marcus)