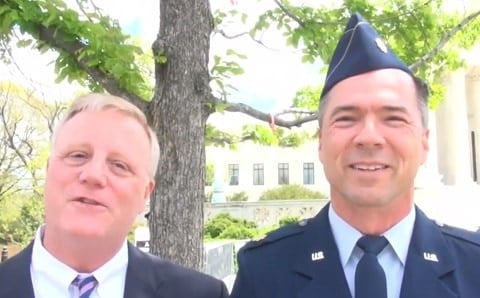 Mark Phariss, who in 2014 sued to overturn the Texas ban on same-sex marriage, has announced plans to run for the state Senate as a Democrat.
Phariss (above left) and his husband Vic Holmes (above right) were involved in the 2014 case asking a federal district judge to lift his stay of an earlier ruling striking down Texas' marriage bans. The case was in progress when in June 2015 the Supreme Court extended the right to marry to all same-sex couples.
According to Dallas Morning News, he decided to run after seeing Democrats win in other Republican strongholds including Virginia and Alabama.
"When I was accepting the fact that I was gay, there were two things I kind of thought I had to give up, one, getting married, and two, running for political office," he said. "I need to quit assuming what people will think. I need to allow them the choice."
In a news release, he promised to bring "common-sense solutions" to the Capitol:
"The Legislature needs to refocus its attention on our state's important issues — like attracting good jobs and reducing traffic congestion — and avoid divisive policies that hurt our state's reputation and competitiveness, like 'show me your papers' laws.
"Most importantly, the Legislature needs to fund our children's educational programs."
In a dig against the state's transgender "bathroom bill," he added: "Classrooms, not bathrooms, will determine our children's and our state's future."
Phariss will face Brian Chaput in the Democratic primary on March 6. The winner of that election will proceed to the November general election against either GOP hopefuls Angela Paxton or Phillip Huffines.
(Image: screenshot via YouTube)