Glee actor Kevin McHale spoke for the first time about his sexual orientation in an interview on Facebook Live (above) with Marc Malkin.
McHale, 29, had been teasing fans for weeks with a series of Instagram posts in which he was showing affection for actor Austin McKenzie, and finally mentioned his sexual orientation for the first time in a tweet (that has received 12,000 likes and been retweeted 3,000 times) about the new Ariana Grande single.
Said McHale in the tweet: "#NoTearsLeftToCry is gayer than me and I ACCEPT. Ty @ArianaGrande."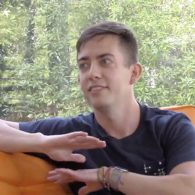 But McHale thought that having to actually say that he was gay was unnecessary: "If somebody was a big fan and following everything I was doing [on social media], like the people I interact with on Twitter on a daily basis, I think there was zero surprise. People knew."
And he said he never expected people to react the way they did: "Twenty-four hours goes by, and all of a sudden I get a barrage of tweets and people being like, 'Oh my god, congrats! Welcome!' I'm like, 'What happened? I was freaking out. I was like, something happened that I do not know about. And then I saw that it was the tweet. People were like, 'Oh, you just came out.' I was like, did I? I was like, would anyone choose to come out in a tweet about an Ariana Grande song?"
But McHale says he's happy that it's out: "I'm definitely happy about that. Better out than not. I'm happy. I'm like, great—that takes care of that."
The actor says that he didn't come out during Glee because he was dating someone: "The person I was with came from the most accepting family, but one of the family members, he was terrified of them finding out."
McKenzie, 24, whom McHale met while they were working on the television show Rise,  is best known for playin Melchior Gabor in Deaf West's Broadway revival of Spring Awakening.
Said McHale of his earlier Instagram posts featuring his boyfriend: "I posted a picture of us holding hands two month ago or something and I was going to post it, just being sappy and I'm like, this is cute and I'm feeling nice right now. And I'm going to post it but I was like, 'Do you care if I post this?' and he's like, 'No.'"
McHale told Malkin he's working on new music: "We'll see what happens. It's a long process but I do think music will be out soon."