Chuck Woolery, the game show host-turned Trump-bot who helmed Wheel of Fortune (pre-Pat Sajak) and Love Connection for many years, earned a Trump retweet on Sunday night after claiming everyone is lying about COVID.
Tweeted Woolery, who is now 79 and a conservative podcast host: "The most outrageous lies are the ones about Covid 19. Everyone is lying. The CDC, Media, Democrats, our Doctors, not all but most ,that we are told to trust. I think it's all about the election and keeping the economy from coming back, which is about the election. I'm sick of it."
He also said, "There is so much evidence, yes scientific evidence, that schools should open this fall. It's worldwide and it's overwhelming. BUT NO."
Trump retweeted him both times.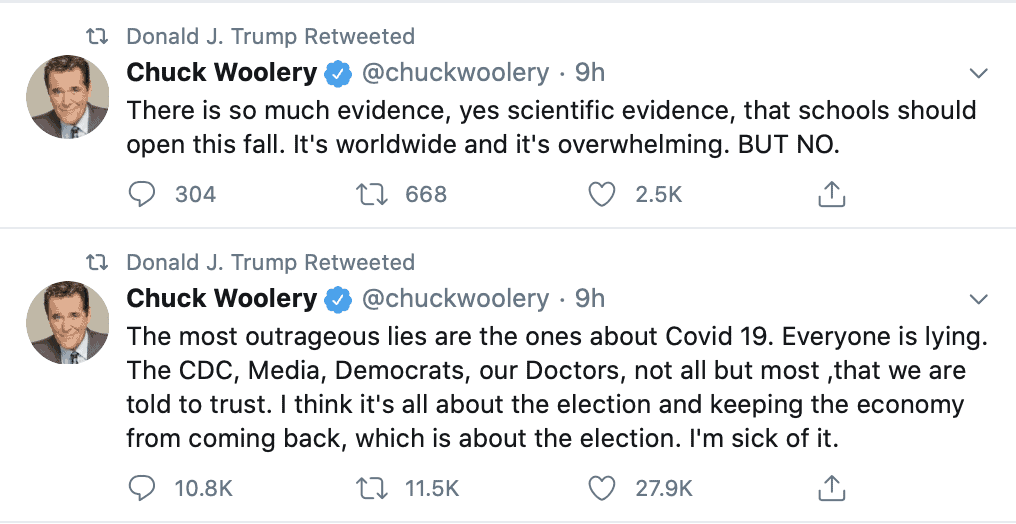 Meanwhile, U.S. deaths from COVID hit 137,000 and Florida broke a one day record of more than 15,000 new cases.
Twitter had a few reactions: