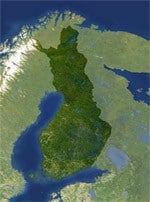 A petition in Finland has gathered enough signatures to force the parliament to debate the reversal of same-sex marriage legislation, reports Pink News.
Created by the Association for Real Marriage, the petition had been signed by 50,000 people as of yesterday evening.
The document calls on Finland's lawmakers to reverse last year's decision to introduce legislation permitting same-sex couples to marry. The new marriage law is due to come into force in March 2017.
160,000 people signed a petition in favor of the legislation and a majority of party leaders – including Minister for Finance and National Coalition Prime Minister Alexander Stubb (above) – signaled their support for same-sex marriage.
Finland's Population Register Center will now be required to verify that the expressions of support on the petition come from genuine individuals.
Finland is the last of the Nordic countries to legalize same-sex marriage
Watch 18 Nonsensical Statements by Finnish MPs Against Equal Marriage below.
(Image via Twitter)