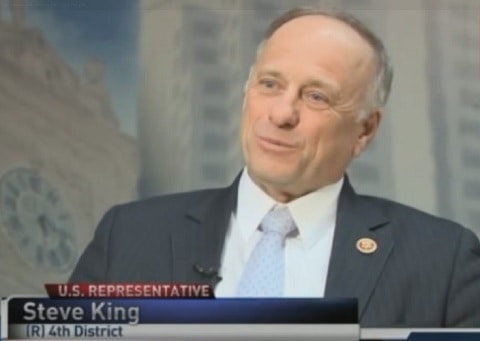 Rep. Steve King (R-IA) has said that Justice Ruth Bader Ginsburg and Justice Elena Kagan should be impeached following the SCOTUS ruling on same-sex marriage, reports TPM.
Speaking earlier this week on "Michelson in the Morning," King agreed with a caller who suggested the impeachment, adding as one reason the fact that both have officiated at same-sex weddings.
King said:
"That provision does exist, and let's hear what the public has to say. If that were put up before me today, and I think I mentioned Ginsburg and Kagan as being two that had been conducting same-sex marriages on their spare time and did not recuse themselves, I would put up the vote to remove them from office. But I don't know if the public is ready for that."
He also – like many others in the last week – called for "nationwide civil disobedience" and encouraged states to simply "abolish civil marriage."
"By doing so we can avoid the litigation that's coming at every one of our churches.
"[LGBT rights activists] will not stop until they can force a priest to conduct a same-sex marriage at the altar of a Catholic church."
Last year, King said that gay people don't deserve equal rights because homosexuality can't be "independently verified."
Listen to his comments below: