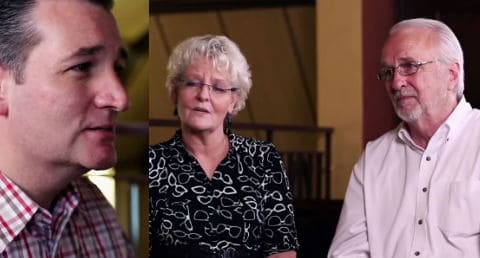 Complete with an entirely inappropriate inspirational soundtrack, GOP presidential hopeful Ted Cruz has released an interview with Dick & Betty Odgaard, the Mennonite couple from Iowa who earlier this year lost a lawsuit after they refused to allow a gay couple to use their wedding venue.
In 2013, the Odgaards told Lee Stafford and his fiancé, Jared that a same-sex wedding at the venue would be in conflict with their religious beliefs.
In the interview, Betty Odgaard tells head-nodding king of the homophobes Cruz that "it's devastating to hear that we were bigots, we were homophobes, we were haters."
The Odgaards have since closed their business.
Watch the cringe-inducing interview below.