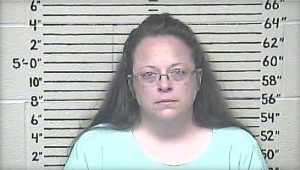 Yesterday, Rowan County clerk Kim Davis was found in contempt of court and taken into custody by federal marshals. Kentucky's WKYT station was at the Carter County Detention Center to record Davis's incarceration and the reactions from her supporters outside:
When the vans carrying Kim Davis pulled in at the Carter County Detention Center, it was just a matter of seconds before the sally port doors quickly closed behind them.
"My job is to keep the door locked until the judge tells me to unlock it. As far as we're concerned, it was just another day in the neighborhood," Carter County jailer, R.W. Boggs said.
A group of supporters calling Davis a hero gathered outside the jail waiting on her to arrive.
They held signs on Main Street, then circled up in prayer in front of the detention center.
"We are here to encourage Kim Davis. She's our sister in the Lord. She believes the Bible just like us," Dr. Patrick Johnston from Johnston Family Ministries said.
Boggs said while Davis is at the detention center, she'll be treated like any other inmate:
"It's a day in jail – breakfast, lunch, dinner and daily activities. It's not glamorous, it's not exciting. It's jail."
It remains unclear how long Davis will stay in jail. On Friday, five of her deputy clerks are expected to start issuing marriage licences to same-sex couples.