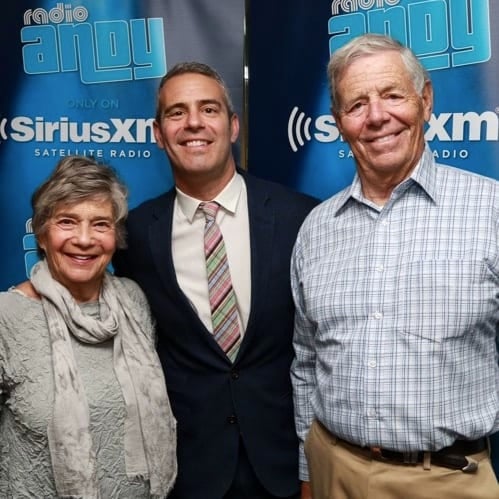 Andy Cohen had his parents Ev and Lou join him on his SiriusXM radio show 'Andy Radio' yesterday in honor of National Coming Out Day this Sunday.
Their experience with their son's coming out was a similar one that many parents have: trepidation, fear, grief, worry, and feeling a sense of loss. But as many good parents will also tell you, if they don't accept you immediately (as they should, in the best scenario) the fear subsides and acceptance prevails, though sometimes it takes a bit of understanding and education.
Cohen's mom said that she suspected he was gay after seeing him "prancing around in Carousel in high school" she "had an epiphany."
"That was the day I went to your room and looked under the bed," she said. Underneath the bed she found things that made her realize he was gay.
Listen:
[soundcloud url="https://api.soundcloud.com/tracks/227483305″ params="auto_play=false&hide_related=false&show_comments=true&show_user=true&show_reposts=false&visual=true" width="100%" height="450″ iframe="true" /]
In the next segment they talk about the six months after Andy came out and how they transitioned to be huge allies of the LGBT community and started going to a lot of gay events.
Said Cohen's mom: "I wouldn't stop crying because I had to mourn my expectations that you'd get married, that you would have children. At that time those were…
Not possible," Andy adds, "So you had to mourn what the idea of my future was going to be."
Adds Cohen's mom: "I had one friend, Lynn I said, 'oh my god I have to tell you something.' Then I start crying. She says 'what's the matter?' So she's quiet for a minute and she says, 'well, he's the same today as he was yesterday, so what are you crying about?' That was the best advice I ever got."
Listen:
[soundcloud url="https://api.soundcloud.com/tracks/227484532″ params="auto_play=false&hide_related=false&show_comments=true&show_user=true&show_reposts=false&visual=true" width="100%" height="450″ iframe="true" /]