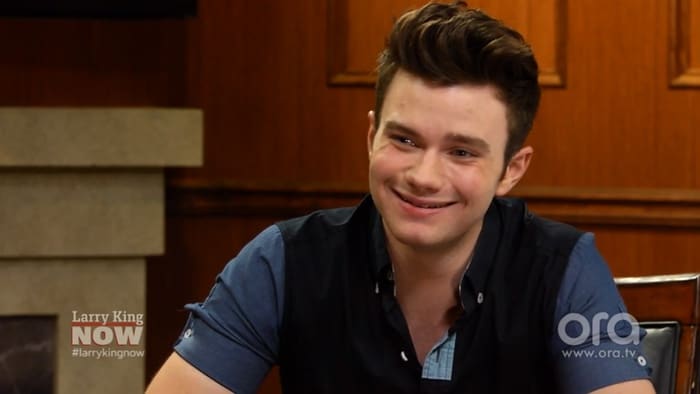 Glee's Chris Colfer sat down with Larry King on ORA TV and talked about a number of topics, including politics, his career as an author, coming out, and a few details about the upcoming AbFab movie in which he is cast (SPOILERS ahead).
The movie's plot, according to Variety:
In the movie, which is adapted from the BBC TV series, Edina and Patsy are still living the high life: shopping, drinking and clubbing their way around London's trendiest hotspots. Blamed for a major incident at an uber-fashionable launch party, they become entangled in a media storm, and are relentlessly pursued by the paparazzi. Fleeing penniless to the playground of the super-rich, the French Riviera, they hatch a plan to make their escape permanent, and live a life of luxury forever.
Says Colfer:
"As of right now I believe I'm playing Jennifer Saunders hairdresser/social media consultant, and I'm very excited about that because Jennifer Saunders is one of my heroes."
Colfer also discusses appearing on the same billing as Kim Kardashian.
Watch:
Here's the full interview if you're interested, with clips pulled out below it:
Colfer also talked about coming out and  what it might be like to have a gay man or woman in the White House:
And who he's voting for in 2016:
He's got a new young adult novel, Stranger Than Fan Fiction:
A possible return to TV:
And a game of If You Only Knew: