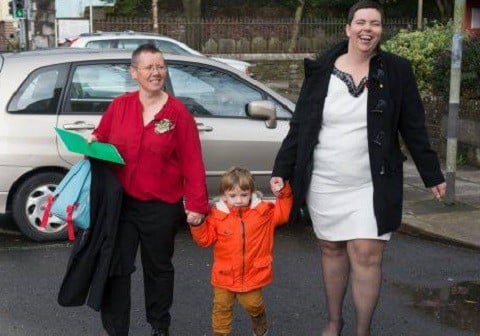 A lesbian couple from Cork, Ireland finally tied the knot yesterday after a last minute legal hitch earlier in the week prevented them from marrying as planned.
Dolores Murphy and Mabel Stoop-Murphy were told that the registry office had been advised by the General Registry Office in Roscommon that their marriage could not go ahead because of a lack of notice under the Civil Registration Act.
After yesterday's wedding day disappointment, Dolores & Mabel tied the knot quietly in #Cork today #MarRef pic.twitter.com/TFWAeBs8Cz

— Eoin English (@EoinBearla) November 18, 2015
Under the act, a minimum of five days notice has to be given that there is no impediment to marriage. This can be reduced to one day at the discretion of the local registrar.
Murphy, who accused the registry of making "absolute eejits" of them, said they were devastated and described the situation as "beyond ridiculous."
However, the happy couple were celebrating last night after finally marrying.
Dolores said that despite Tuesday's "terrible disappointment…today is the start of a new life as a happy family."