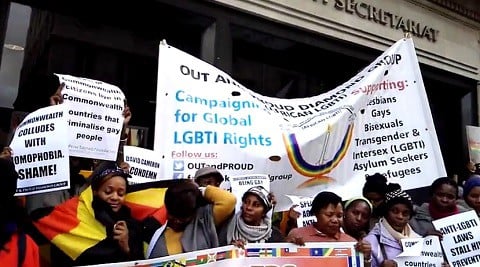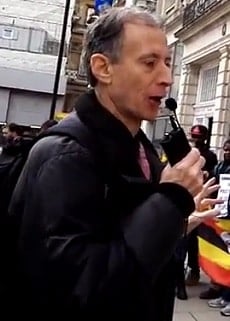 LGBT rights activist Peter Tatchell (right) last week supported a London protest highlighting anti-gay laws in Commonwealth countries.
Organised by Out and Proud Diamond Group African LGBTI, the rally took place prior to a Commonwealth heads of government meeting in Malta.
The protest highlighted the fact that 40 of 53 member states – including Uganda, Nigeria and Brunei – continue to criminalize homosexuality.
A Peter Tatchell Foundation statement demanded that these states "decriminalise homosexuality and legislate equal rights for their LGBTI citizens, in accordance with the human rights principles of the Commonwealth Charter and the Universal Declaration of Human Rights."
Edwin Sesange, Director of African LGBTI, said:
"Most of these countries inherited their anti-gay laws from Britain when it was their colonial ruler. They are a colonial hang-over. The existence of these anti-gay laws over the last century has created a climate where many people believe that homophobic attitudes and laws are a part of their cultures."
Out and Proud Diamond Group representative Abbey Kiwanuka, added:
"At least seven Commonwealth countries impose life imprisonment for homosexuality. Parts of northern Nigeria and rural Pakistan have the death penalty for LGBTI people, and Brunei plans to introduce death by stoning. This makes a mockery of the Commonwealth Charter.
"Most countries that are signatories to the Commonwealth Charter have failed to live up to it. The Commonwealth has continued to do nothing serious and effective to encourage these nations to respect the liberty and dignity of their LGBTI citizens.
"The decriminalization and demonization of homosexuality in the Commonwealth has led to mob-violence and the murder of LGBTI people, their denial of employment, housing and medical care, as well as imprisonment, torture and sexual assault."
Earlier this year, Tatchell joined Gay protesters outside Dolce & Gabbana's flagship store in London to highlight the designers' controversial comments about same-sex parenting.