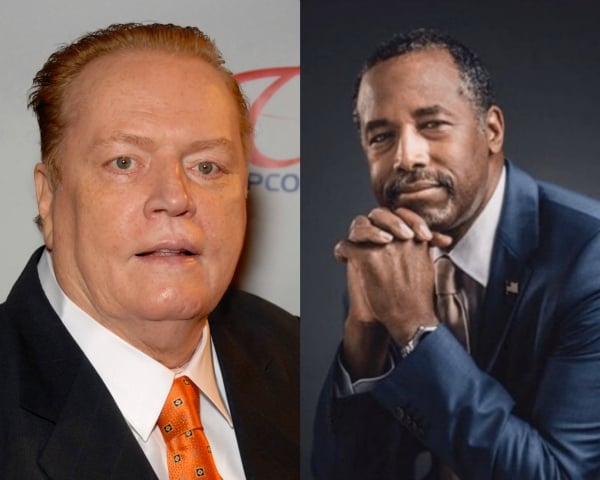 Hustler publisher Larry Flynt is targeting Republican presidential hopeful Ben Carson in an open letter published Monday in the Las Vegas Review Journal. In the letter, Flynt offers "between $50,000 and $1 million" to anyone who has proof of a "most peculiar relationship" between one of Ben Carson's top advisers, Armstrong Williams, and his former personal trainer, Stephen Gregory, who accused Williams of sexually harassing him.
"Armstrong Williams, your brother in faith and the person you say you trust more than anyone else outside of your immediate family," Flynt writes, "settled a lawsuit out of court after affidavits provided allegations that he initiated unwanted sexual advances toward other men."
In 1998, Williams was accused by former personal trainer Stephen Gregory of more than 50 separate incidents of sexual harassment. In the filing, Gregory says that Williams repeatedly "kissed him on the mouth, grabbed his buttocks and genitals and climbed into bed with him on business trips."
When Gregory refused the advances, Gregory claimed in the suit, Williams retaliated by firing him. Gregory sought $200,000 in damages but ultimately settled with Williams out of court.
In Flynt's open letter, he accuses Carson of being a hypocrite for partnering "with an accused sexual predator" after making defamatory statements about gay Americans:
Dr. Carson, you claim to be an advocate of traditional family values. You have linked gays with bestiality and the North American Man/Boy Love Association. You have opposed same-sex marriage, accusing marriage equality advocated of 'directly attacking the relationship between God and his people.' You you have partnered with an accused sexual predator. You, sir, are a hypocrite!"
Indeed, Carson has a long history of anti-LGBT animus, saying gay marriage was to blame for the fall of the Roman empire, signing NOM's anti-gay marriage pledge, remarking that homosexuality is obviously a choice because 'some people come out of prison and are gay', to name just a few choice moments in Carson's checkered past.
Flynt then demands that Carson "disavow any and all relations" with Williams at Tuesday's Republican debate on CNN. If the candidate — whose most recent headline-grabbing move was to threaten to abandon the Republican party entirely — fails to do so, Flynt says he will pay for "confirmable information" relating to the "curious relationship" between Williams and Gregory.
Flynt has a long history of offering hefty cash payouts to prove conservative politicians are guilty of unlawful, unsavory and hypocritical behavior. At the height of the Monica Lewinsky scandal, he offered $1 million for evidence that Bill Clinton's Republican foes had committed acts of adultery. In 2012, he put up a similar bounty for stories of "infidelity, sexual impropriety or corruption" involving members of Congress.
You can read the entire letter published by Flynt, below: