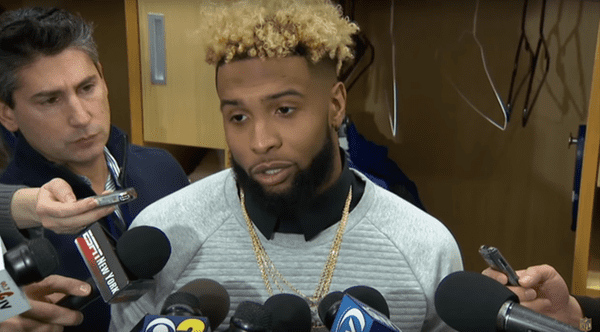 The NFL says it has investigated reports of gay slurs directed at Odell Beckham Jr. of the New York Giants, and has found nothing, the Washington Post reports:
Barring new information surfacing to corroborate the accusations, the league will not discipline any Panthers players based on those allegations of slurs, according to the person, who spoke on the condition of anonymity because the NFL has made no announcement on the issue.
There is "no evidence of it," the person said.
The NFL suspended Beckham for one game without pay for a series of on-field confrontations with Carolina cornerback Josh Norman during the Giants' loss to the Panthers at the Meadowlands. The league in particular cited a helmet-to-helmet hit that Beckham delivered to Norman at the end of a play on which another Giants player was tackled.
Arbitrator James Thrash upheld the suspension Wednesday by rejecting Beckham's appeal.
Beckham apologized on Wednesday, as we reported:
— Odell Beckham Jr (@obj) December 23, 2015