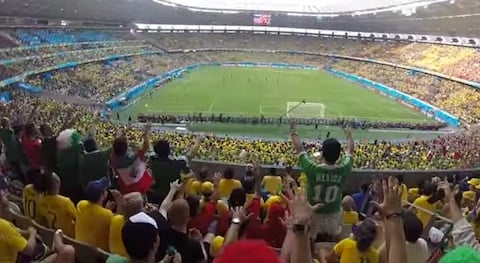 The Fédération Internationale de Football Association (FIFA) on Wednesday fined five countries for anti-gay chants by fans of their national teams. Argentina, Chile, Mexico, Peru, and Uruguay were the nations penalized, the AP reports:
Chile's fine is the biggest at 70,000 Swiss francs ($70,000) over cases at four different matches. The governing body imposed fines of 20,000 Swiss francs ($20,000) on Argentina, Mexico, Peru and Uruguay. Proceedings continue against Honduras for what FIFA described as "apparent homophobic chants by its supporters."
It's unclear how FIFA plans to deal with a huge looming issue – the fact that the 2018 and 2020 World Cups are scheduled to take place in Russia and Qatar, respectively, nations with laws that oppress their LGBT citizens.
Former NBA player Jason Collins told the BBC last year: "If you're a governing body like FIFA you cannot have sporting events in countries… where they have laws on the books that say that homosexuality is illegal, you just cannot give them that power. So whether it's Russia, whether it's Qatar, you cannot give them the games, period, until they change their laws or the culture so that people feel comfortable again to live their authentic life."
LA Galaxy player Robbie Rogers has protested the plans numerous times, and they've been the segment of a cutting segment by HBO's John Oliver as well.