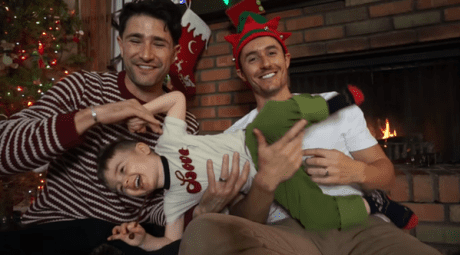 Matt Dallas and husband Blue Hamilton will star in a new docuseries (alongside their adorable son Crow) about becoming a family.
Dallas, whom you may recall from Kyle XY, and Hamilton, a singer, were married in July of last year. Since then they have started a YouTube channel focusing on their life together. In December, the pair shared that they had adopted a son, fulfilling their dream of becoming dads.
Deadline reports on the new show: 
The docuseries will follow Dallas and his music exec husband fresh off the adoption of a baby boy as they go through the thrills and struggles of raising their fostered and now adopted child together. Dallas recently appeared in ABC Family series Baby Daddy.
"Matt and Blue are the perfect combination of what always works for us — great characters with a great story, living an authentic life," says Lauren Lexton, co-founder and CEO of Authentic.
Dallas and Hamilton also each recently shared how they each came out as gay. Undoubtedly, their experience as being out gay dads will play a significant role in their upcoming series.
Watch Dallas and Hamilton's latest YouTube video about a road trip they took to LA with their son Crow, below.