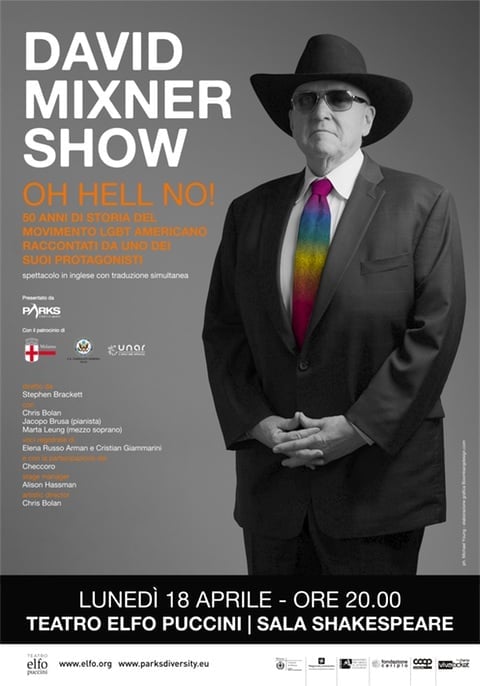 Longtime LGBT and civil rights activist and Towleroad contributor David Mixner is taking his show Oh Hell No! abroad next month for the first time, giving the stage production its international debut at the Elfo Puccini Theatre in Milan on April 18!
Oh Hell No! — a powerful and humorous storytelling and musical session that highlights Mixner's more than four decades of social activism — has already played to sold-out houses in New York, Atlanta, and L.A.
Said Mixner of his Italian debut: "So damn excited to be supportive of the historical efforts being undertaken by the Italian LGBT community in fighting for their full equality.  The 'Oh Hell No!' team going over is thrilled."
Joining Mixner on stage are Chris Bolan, pianist Jacopo Brusa, mezzo soprano Marta Leung and Milan's LGBT choir Checcoro.
The show benefits PARKS, an organization named after American civil rights icon Rosa Parks whose members are the diversity officers of major corporations in Italy working to bring equality to LGBT people via the workplace.
If you're one of our Italian readers, don't miss it!