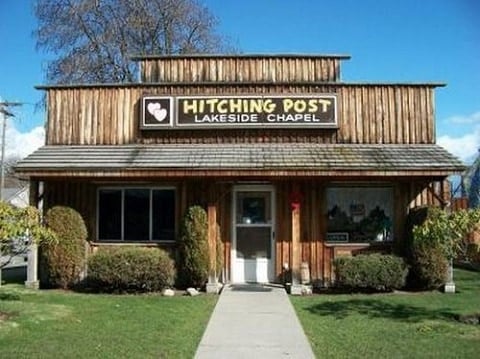 A federal judge has allowed a discrimination lawsuit brought by an anti-gay Idaho wedding chapel to proceed–but only with a severely limited scope.
In 2014, Don and Lynn Knapp, the owners of Coeur d'Alene venue the Hitching Post, closed down for a number of days out of fear that the city would prosecute them for refusing to perform same-sex marriages. The couple – both ordained ministers  – allege they were warned about possible consequences by city staff. They say the closure caused them to suffer an economic loss.
Represented by anti-gay litigation group Alliance Defending Freedom, the Knapps filed a complaint against the city shortly after reopening.
However, U.S. Magistrate Judge Ronald Bush has ruled that the couple can only file for damages for one day during which they voluntarily shut down – the same day same-sex marriage became legal in Idaho. Bush said they failed to demonstrate they were under threat of prosecution for future violations of the ordinance. He also questioned why the Knapps failed to tell the city that they had recently filed to be considered a religious organization.
OK. Did that. Found the operators of the Hitching Post Wedding Chapel in Idaho, who CLAIM they wete threatened with a lawsuit @debistarks

— Izzy Kamikaze (@IzzyKamikaze) March 28, 2015
According to the Idaho State Journal, Coeur d'Alene's city attorney Michael Gridley, said "we wish [the case] would have been totally dismissed, but we believe it will pretty much go away now. It will be an uphill battle for them."
Alliance Defending Freedom has declined to comment on the case.