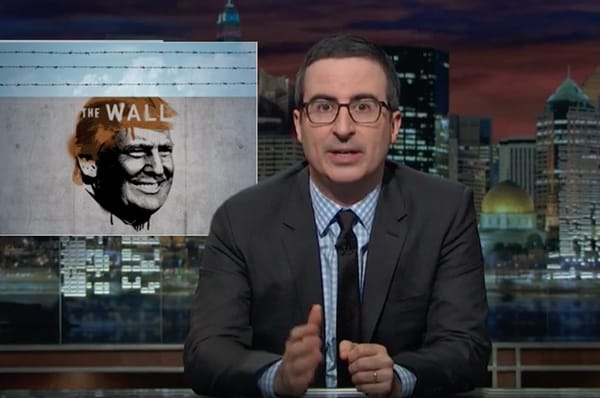 Even though John Oliver said he didn't think he'd have to care about Donald Trump, the cheeto-dicked blowhard has become one of his most fruitful targets this election season, and on Last Night Tonight, Oliver came for Trump's "big, dumb" border wall, "one of the few policy proposals Trump has talked about in detail."
"Instead of mocking it or dismissing it out of hand, let's take a serious proposal by a serious presidential candidates seriously, and let's put aside the potential racism and xenophobia involved, but instead let's focus on the practicality of whether and how it can actually be done."
Oliver assesses the cost of the wall and finds that the wall would cost around $25 billion, between 2 to 6 times Trump's estimate.
"It's a big, dumb thing that only gets more expensive over time. It's like getting a pet walrus. You think it's stupid now, wait until you learn what a bucket of sea cucumbers costs. You've not prepared for that."
Oliver then gets into Trump's claim that Mexico will pay for the wall, where we'd put it, and if it would even keep people out (it wouldn't).
"Nearly half of all the unauthorized migrants now living in the United States entered the country legally through a port of entry such as an airport or a border crossing point."
Oliver then ramps back to the racism and xenophobia, explaining:
"While, yes, individual undocumented immigrants have committed horrible crimes, so, obviously have American citizens. And in fact, researchers consistently find that immigrants are less—not more—crime-prone than their native-born counterparts. The crime rates among immigrants once here are in relatively tiny digits, which is something Donald Trump should frankly understand given that he has ten of them attached to his miniscule wrists."
Watch: